Southwold: 2,100 Homes Get Superfast Broadband
24 February 2014, 06:37 | Updated: 24 February 2014, 06:46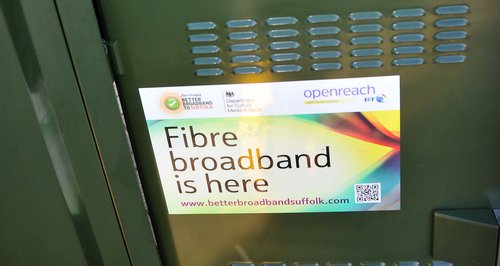 Southwold is the latest area of Suffolk to get access to high speed fibre broadband.
More than 2,100 more homes are now able to access the superfast broadband as part of the Better Broadband for Suffolk programme.
Suffolk County Council have said they hope to see 85 per cent of the county hooked up to faster broadband speeds by 2015.
Seven green cabinets, serving houses in 174 postcodes have been upgraded to provide Southwold and Reydon with fibre broadband. So far, over 14,000 homes have benefited from the Better Broadband scheme, with 58 new or upgraded cabinets having already been installed.
The council have said that every three months, between now and the end of 2015, approximately 10,000 more properties will be given access to faster broadband. This is on top of the 200,000 Suffolk homes that have already been upgraded by BT's existing plans to improve broadband services.
Councillor Mark Bee, Suffolk County Council's leader and chair of the Better Broadband for Suffolk programme, said:

"This is a real and tangible demonstration of exactly what we set out to achieve with the Better Broadband for Suffolk programme. We're making modern broadband services available to people living and working in areas that otherwise wouldn't have the kind of access you get in large urban towns and cities.
"Like many more areas of Suffolk to come, Southwold and Reydon now have the kind of internet access that residents and business owners want and deserve."
Suffolk Coastal MP, Therese Coffey, said:
"I'm delighted that superfast fibre broadband is now available in Southwold & Reydon. This is great news for residents and essential for local businesses. The Government has invested nearly £12m alongside our local councils in delivering better broadband for Suffolk and I look forward to seeing it continue to roll out across the rest of the county."
In total, over £40 million will be invested in Suffolk's broadband network over the next 15 years as part of the scheme. Suffolk County Council is predicting the project will provide a £2 billion boost to the local economy, allowing homes and business to work faster and function more efficiently.