£12m Redevelopment of Sixfields Gets Underway
14 March 2014, 15:42 | Updated: 14 March 2014, 16:00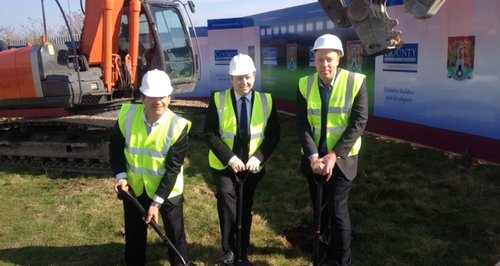 New shops, new houses, a new hotel and a greater capacity football ground- work to redevelop Sixfields in Northampton is underway.
The Chairman of The Cobblers, David Cardoza, and the leader of Northampton Borough Council, David Mackintosh, met with the developers today (Friday 14th March) to break the first bit of ground.
The whole project will take around 9 months and cost the football club £12 million in total.
The stadium is first on the list with the aim of being ready for the start of the 14/15 football season.
Mr Cardoza told Heart:
"Within the stadium we're going to be building corporate boxes, better hospitality suites, better seating, just tidying up the whole stadium and making a more of a family friendly feel to it.
"Outside the stadium we're looking at adding some fast food outlets, a commercial gym, a conference centre, a hotel, all things that can generate good money for the club which all lower league clubs need."