Brainier Than Einstein
9 August 2013, 10:39 | Updated: 9 August 2013, 11:03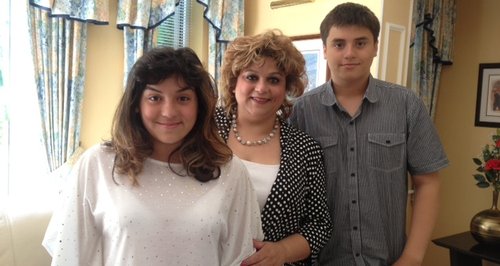 An 11 year old girl from Northampton's found out she's got a higher IQ than Einstein and Professor Stephen Hawking.
Cerys Cooksammy-Parnell (pictured, front, with her mother and brother) achieved the maximum score on a Mensa IQ test.
The primary school pupil said she was not only shocked to have got the top mark, but was also pleased to have beaten her father.
The Year 6 schoolgirl scored a jaw-dropping 162 on the Cattell B scale. Professor Stephen Hawking only has an IQ of 160.
Cerys sat the supervised test on Saturday 27 July 2013 with her 45-year-old father Dean, who is already a member of Mensa and has an IQ of 142.
They sat apart in the Milton Keynes test room but Cerys said she could see her father during the test and joked that he was the last to finish each section.
Her father, a lawyer, came out telling his wife Natalie, also a lawyer, that he thought Cerys had "fluffed it'' because of the speed with which she carried out the test.
Cerys and her father have a light-hearted competitiveness and the schoolgirl said she was pleased to have trounced his score.

"When I was applying to Mensa he said 'oh I'm already in Mensa, Cerys', he was like showing off a bit, so it's good that I got my own back on him,'' she said.

Mr Parnell said he expected her IQ to be high because she had always been naturally bright and articulate, but finding out she had reached the maximum came as a bit of a shock.

"I was expecting her IQ to be upwards of 145, there's no doubt about that, but to actually hit the maximum it was a surprise, but I think that's partly to do with the fact that she is such a normal kid,'' he said.
"I always joke and say 'oh, you know you're not as smart as me', we always have that banter.

"I remember what I was like at 11 and she's streets ahead of me but it's just fun, we're all really excited and proud of her.''

Cerys, who is in the gifted and talented group at her school in Wellingborough, said she was interested in maths and a job in banking in the future, and might even aim for a career as Prime Minister or governor of the Bank of England.

She said it was not her IQ that counted but what she does with it and brushed off comparisons to Einstein and Stephen Hawking.

"You can't really compare me to Einstein because he's already achieved so much, you can't really judge someone on their potential,'' she said.

Her 40-year-old mother added: "There's a difference between natural intelligence and knowledge.

"In order to transfer her natural intelligence to knowledge she's got to be a bit more focused and we've obviously got to educate her better.''

Cerys's parents, who also have a 13-year-old son Ieuan, said what they have to do now is decide whether to let her continue being a normal kid, who enjoys tennis, shopping, texting her friends and playing Candy Crush on her iPhone, or put a strategy in place to push her.

Her father added: "From our point of view now as a family we're reflecting on the fact that she's obviously gifted in terms of her IQ and how we best utilise that.

"She's a very normal child and from our point of view do we allow her to continue as a normal child or do we give her some intellectual material and try and push her intellectually?''