Crime Up At British GP
2 July 2013, 12:04 | Updated: 2 July 2013, 12:14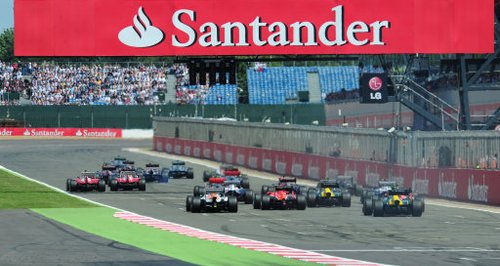 Police have told Heart 21 arrests were made at the British Grand Prix campsites at Silverstone.
This was an increase on the previous year. Northamptonshire Police are putting the increase down to the fact that the weather was much better for the 2013 race, which encourage more opportunist criminals to 'chance their arm'.
Northants Police have told Heart a total of 58 crimes were reported at Silverstone over the three days of the Grand Prix meeting, which attracted a total of 294,000 spectators. A hundred and twenty thousand of those were on the Sunday raceday.
The people arrested came from places like Northampton, Towcester, Milton Keynes, Manchester, Liverpool, Blackburn and Doncaster.
The arrests were for thefts from the campsites, vehicle crime, drugs offences and being drunk and disorderly. A 35 year old man from Doncaster was arrested on suspicion of a wounding offence.
Licensing officers also carried out a test purchasing operation around the campsites.
Alcohol sellers were issued penalty notices for disorder for serving alcohol to under-age drinkers on the Woodlands site, Hamilton Fields and the Litchlake site.

Superintendent Sean Bell, the event commander, said: "We experienced a large number of thefts from tents this year but believe we made significant arrests early on in the weekend.

"We had a large number of officers patrolling the campsites and car parks day and night and made sure we got out our key messages around personal security and crime prevention as widely as possible.

"Silverstone remains a low-crime event, if you consider that almost 300,000 came through the doors over the weekend.

"The test purchasing results were very disappointing. Certainly outside the circuit, on many of the campsites, there appeared to be little regard for the licensing laws that everyone else has to abide by.

"We will be speaking to the relevant premise licence holders regarding their training and procedures and will look to carry out a similar operation at next year's event.

"The traffic flowed pretty well, considering the size of the crowd who came to watch the racing, and Silverstone's park-and-ride operation worked very well indeed, especially on the Sunday – that is certainly the way forward for future years.

"The Silverstone crowd are always extremely good natured and supportive and we want them to return next year to have fun but in the knowledge that we will uphold the law to ensure a safe event for everyone."