Fire At Wellingborough Recycling Plant
4 April 2014, 10:16 | Updated: 4 April 2014, 16:31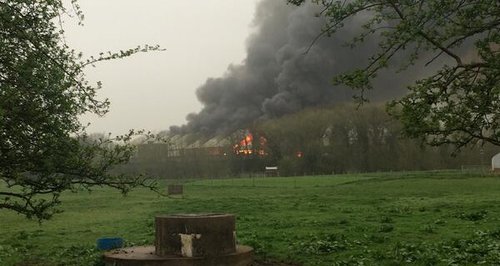 Fire crews have been called to deal with a fire at an industrial estate in Wellingborough.
14 fire engines and 60 firefighters are dealing with the flames at Leyland Industrial Estate.
Northamptonshire Police are also on the scene assisting fire crews.
The smoke plume emerging from the fire is described as ''hazardous''.
People are advised to avoid the area and those living in the vicinity are asked to keep windows and doors closed.
There have been no reports of any injuries.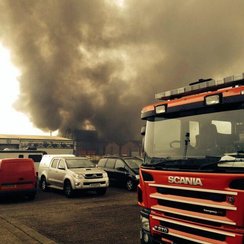 Debbie Tweddle, Locality Manager at East Midlands Ambulance Service said: "We received a call at 11:16 to Environmental Storage Solutions on Leyland Trading Estate reporting an industrial fire.
There was no threat to life and no casualties and so nobody was taken to hospital.
However, our Hazardous Area Response Team (HART) remain on scene to support Police and Fire services.
As a result of the fire, the following road closures are in place:
The Senwick Road junction with Irthlingborough Road is closed to all traffic in the direction of Irthlingborough and the Leyland Trading Estate.

The Sidegate Lane junction with Irthlingborough Road is also closed to all traffic in the direction of Wellingborough.
Update: 4:40pm.
Chief Fire Officer Martyn Emberson said: "A major fire has occurred at Leyland Trading Estate, Wellingborough.
Although there is no imminent risk to life, we expect this fire to continue for a number of days and to produce significant amounts of smoke.
Current advice suggests that there are limited risks to health and we will continue to monitor air quality and update the community as required."
A Public Health England spokesman gave the following advice: "Residents in areas affected by the smoke should stay indoors, keep their doors and windows closed, and tune in to the local radio station for advice and information.
Motorists who have to travel through the smoke should keep windows closed, turn off air conditioning and keep their air vents closed.
So far, there have been no reports of any people experiencing ill effects from this fire.
The Fire and Rescue Service is on site dealing with the fire and the other agencies involved will continue to monitor the situation and issue advice to the public, businesses and organisations affected as necessary.
Because smoke consists of a mixture of gases, liquid droplets and solid particles representing the decomposition and combustion products from fires, we can issue the following general advice in relation to smoke from fires.
Any smoke can be an irritant and as such, if people need to be outdoors, they are advised to avoid outside areas affected by any smoke or ash, or to limit the time that they spend in them."
Some of the substances present in smoke can irritate the lining of the air passages, the skin and the eyes.
Respiratory symptoms include coughing and wheezing, breathlessness, sputum (phlegm) production and chest pain.
If symptoms occur, people should seek medical advice or call NHS 111."
Pictures: Northamptonshire Police & Buckinghamshire Fire & Rescue Service.