Mum Proud Of James Ashworth VC Square
4 July 2013, 06:00 | Updated: 4 July 2013, 08:22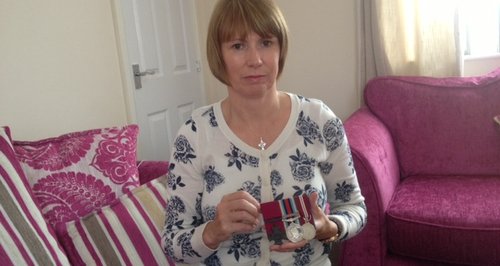 Heart's been talking to the mother of Lance Corporal James Ashworth following the naming of the James Ashworth VC Square in Corby.
James was killed while serving in Afghanistan in June last year.
The official naming of the square outside the Corby Cube happened on Saturday 29 June 2013 at a service for Armed Forces Day.
Kerry Ashworth gave a speech alongside the town mayor.
Speaking to Heart she said: "I kind of go a little bit in shock because I just can't believe that people turn out and people want to do this for my son because even though to the nation he's a hero to me he's just my son"
In the past the square's been used for family events. Mrs Ashworth said this is very fitting as James was very close to his family.
She hopes that having the James Ashworth VC Square will be a long lasting tribute:
"In a hundred years time, if the squares still there, someone might ask why its named the James Ashworth VC Square so there be history there."
There have been lots of tributes to James since his death- most significantly the awarding of the Victoria Cross
James's name will be unveiled at the National Memorial Arboretum in Staffordshire on Friday 5 July 2013.