Northampton Firm Raises £22K For Charity
30 August 2013, 14:41 | Updated: 30 August 2013, 14:50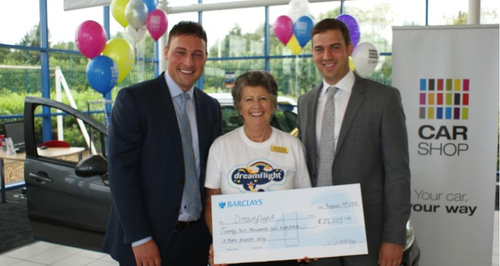 A Northampton business has raised £22,203 for a charity that sends seriously ill and disabled children on trips of a lifetime to Orlando in Florida.
CarShop organised a series of 5k runs at each of its stores back in April – the Northampton one went through Billing Aquadrome before ending up back at the store where the prize ceremony was held.
Each year the charity Dreamflight sends 16 seriously ill and disabled children from the Northampton region to Florida, along with 176 children from 11 other UK regions.
The charity relies on volunteer donations to make the trips happen.
As an added incentive to fundraise, CarShop gave runners the opportunity to enter a prize draw to win a car, if they raised over £50 for the charity.
The winner was Katina Allison, who was presented with the car by Patricia Pearce from Dreamflight.
Mrs Allison said "I certainly didn't expect this. I took part in the run because I wanted to do something good for the charity, but this is amazing."
CarShop's Marketing Director James Dunkley said, "We're extremely proud of our achievement; not only has it been great for staff morale, but from a community sense it's incredibly humbling to realise that our efforts will directly impact the lives of local children. Every single runner, spectator, and all those involved with supporting the cause have helped make the Dreamflight become a reality for a child from the Northampton area."
The events raised enough money to fully fund Dreamflights for 7 children.