Petrol Station Machete Robbery
26 July 2013, 09:44 | Updated: 26 July 2013, 09:49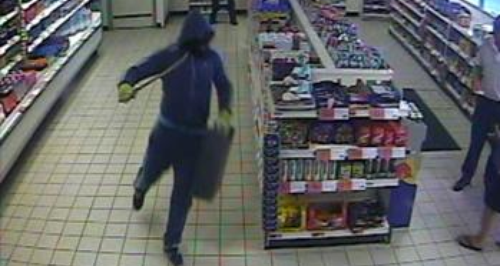 Police have released a CCTV picture after a security van driver was robbed by a man with a machete in a Northampton petrol station.
The robbery happened just before 12pm on Tuesday 16 July 2013 at the Sainsbury's Petrol Station at Sixfields.
The driver of a security van was in the petrol station store when he was confronted by a man with a machete who demanded he drop the cashbox he was carrying.
The driver dropped the box, the man took it and left on foot, however it is possible that he may have used a motorbike concealed nearby.

The offender is described as a white, 6ft man of stocky build.

Detective Sergeant Emma Nealon from the Organised Crime and Drug team said: "We believe this to be linked to a series of similar robberies that have occurred in Northamptonshire, Leicestershire and the West Midlands. We are doing everything we can to both identify offenders and bring them to justice and to prevent any further incidents."

"We want people to be aware of this type of crime so that they can report any suspicious activity to us. Often the offenders know which businesses have cash deliveries and lay in wait, and have been known to leave on foot, by motorbike or in a car."

Witnesses, or anyone with information, should call Northamptonshire Police on 101 and quote Op Parsec. Alternatively you can give information anonymously to Crimestoppers on 0800 555 111.