Tribute To 'Bravest Of Soldiers'
1 August 2013, 13:11 | Updated: 2 August 2013, 11:16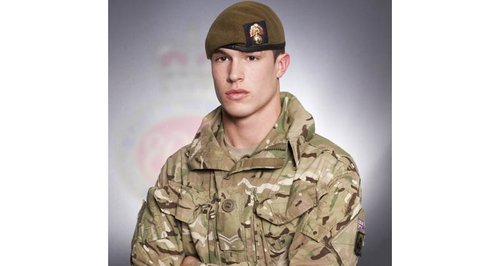 An unlawful killing verdict's been recorded after a soldier from Corby died in Afghanistan trying to rescue his comrades.
Lance Corporal James Ashworth, 23, of 1st Battalion Grenadier Guards, was posthumously awarded the Victoria Cross following his death in June 2012.

He was fatally injured by his own grenade after he was hit by a Taliban bullet just as he went to throw the explosive device into an compound.

At L/Cpl Ashworth's inquest Anne Pember, the Northamptonshire Coroner, said a post mortem had revealed cause of death as blast injuries caused by an explosion and recorded a verdict of unlawful killing while he was serving on operations in Afghanistan.

L/Cpl Ashworth died after crawling along being peppered with bullets to throw his last grenade at a sniper who had his team pinned down.

Speaking after the inquest in Kettering, his mother Kerry said her son, only the second soldier to be awarded a VC for bravery in Afghanistan, had died doing the job he loved.

She said: "His smile can light up any room he goes into and we all love and miss him so.

"James passed away doing a job he loved. At times it was a hard job but he did get to experience new countries, learn new skills and make some wonderful friends.

"James will be forever be in our hearts, thoughts and prayers and we will never get over his passing. But we will stay strong together as a family and along with his friends we will remain positive and celebrate his life at every opportunity as I know that is what he would want us to do.''

His commanding officer Lieutenant-Colonel James Bowder said he was "the bravest of soldiers, the best of men''.

As well as the VC, L/Cpl Ashworth has had a square named after him in his home town of Corby.
The coroner heard sometimes emotional testimony from comrades fighting alongside L/Cpl Ashworth on the day he died.

His platoon commander Captain Michael Dobbin described how an operation had been ordered to "kill or capture'' a skilled Taliban sniper team which had shot and wounded three British soldiers in the preceding days.

After four days planning, the insurgents were spotted near a village in the Nahr-e-Saraj area of Helmand province, and the strike team, including L/Cpl Ashworth, swooped on the area in two helicopters.

Captain Owen Davis, a Royal Marine attached to the platoon, said that after landing under fire, aerial intelligence revealed a single insurgent had fled to a compound in the village.

He told the coroner that as he and an Afghan policeman moved out around the corner of that compound to begin a search, the police officer "took a long burst of AK47 fire to his body'' instantly killing him.

The rifle fire was followed by a Taliban grenade, forcing Capt Davis to jump into an irrigation ditch for cover, just as it went off.

With the platoon's men now in two other gun battles raging around the village with the Taliban sending reinforcements to rescue their sniper team, Capt Dobbin joined Capt Davis in a bid to flush out the insurgent fighter.

They were then joined by a handful of Guardsmen, including L/Cpl Ashworth.

Capt Davis said the three of them moved inside the walled compound using grenades to clear out likely hiding places.

They split up, and as Capt Davis was searching a corridor the insurgent "popped out'' levelling a burst of fire at him.

"I returned fire and hit him in the stomach and hip,'' he said, but the injured insurgent - holed up in a room, continued to put up a fight and "responded with expletives'' when Capt Davis urged him to surrender.

He added the fight "continued as a bit of a stand-off''.
Tribute
Mrs Ashworth said: "Losing James has been a devastating experience for all of us who loved him.

"He was taken all too soon from us and sadly we share our grief with all the other families who have lost loved ones over the years on operational tours.

"James is an amazing young man who loves sport - especially football, spending time with his girlfriend Emily, going out with his friends, and of course his family.

"His smile can light up any room he goes into and we all love and miss him so.

"James passed away doing a job he loved - at times it was a hard job, but he did get to experience new countries, learn new skills and make some wonderful friends.

"Their nickname for him is 'Ash' or 'Jimmy' and I know they miss him as much as we do.''

She added: "James will forever be in our hearts, thoughts and prayers and we will never get over his passing.

"But we will stay strong together as a family and, along with his friends, we will remain positive and celebrate his life with every opportunity as I know that is what he would want us to do.''

Lt Col Bowder said: "L/Cpl James Ashworth was the bravest of soldiers and the best of men.

"His remarkable gallantry, selfless commitment and tenacity last summer serve as an example to us all.

"Put simply, he fought for his friends, put others first and refused to give up.

"His contribution in Afghanistan in 2012 will continue to inspire soldiers from the Grenadier Guards for many years to come.

"We will never forget this talented young man and will continue to work hard to support Kerry and the rest of the family.''