April Jones Inquest Concluded
The inquest into the death of murdered April Jones has concluded.
It means the schoolgirl's parents can make arrangements for her funeral nearly a year since she died.
The hearing took little more than minutes on Monday morning, with coroner Louise Hunt telling April's parents that she had had to apply to the Chief Coroner for permission to carry out an inquest without a body.
April has never been found after going missing from outside her home in Machynlleth on October 1st 2012.
DS Andy John told to Inquest that he was assigned to be the senior investigating office on the night and a "significant police response was put in place."
It resulted in the arrest of Mark Bridger, 47, on the following afternoon with him later being charged and convicted with her abduction, murder and perverting the course of justice. He's now serving a whole life sentence.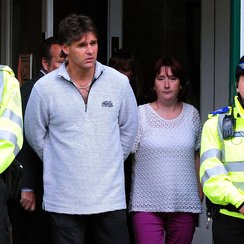 Ian John went on to say that April was "subjected to a violent death, most probably at Mount Pleasent Cottage in Ceinws", Mark Bridger's home.
Powys Coroner Louise Hunt said that an inquest wouldn't give any other information or evidence that has already been heard in court, and that the investigation into April's death was over.
She said: "I want to extend my sympathies for your terrible loss.
"There will be no further formal proceedings and I hope the coming to an end of them will give you time to allow you to deal with your grief."
It means that the family can now arrange a funeral for their child, thought to being held next week in Machynlleth.
Only 17 bone fragments of their daughter have ever been found.