Chester Train Crash Caused By Rain
10 December 2013, 09:37 | Updated: 10 December 2013, 09:41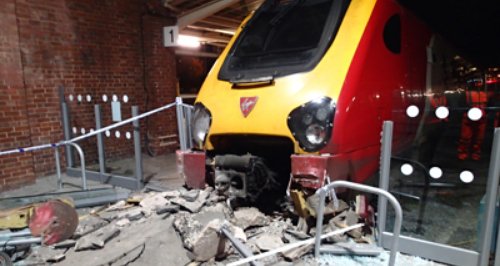 The Virgin train failed to stop in time, crashing into the buffers and then going up on to the platform.
Two people received minor injuries after the Virgin Voyager's brakes failed at just after midday on the 20th November.
The Rail Accident Investigation Branch have released their initial report into the crash at Chester, saying that as the train approached, the driver had to use the emergency brakes as the speed wasn't going quickly enough.
This puts sand onto the track in front of the wheels to make it less slippery, and the report says that this did work.
The train hit the buffer stop at the end of the line which the report says: "was of an old design with only minimal capacity to absorb energy.
"The train destroyed it before overriding its remains to mount the platform where it came to rest."
The RAIB will publish their full report in the coming months.