Hillsborough Inquests Blog
21 May 2014, 18:15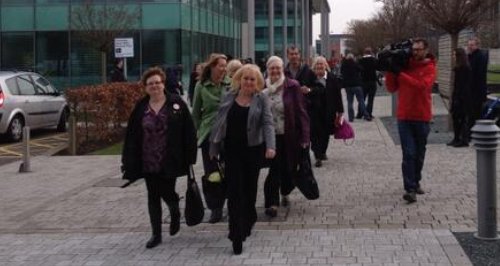 Fresh inquests into the deaths of 96 Liverpool fans in 1989 are underway in Warrington.
For the latest, you can also follow Andy Downton and Claire Hannah on twitter.
---
Wednesday 21st May
On the big screens around the court, we've seen a mixture of Police CCTV, security images from Sheffield Wednesday as well as the live coverage from the BBC of the FA cup semi final.
We saw how Gate C was opened by a police officer who was trying to eject one fan - to be met by a hundreds of fans on the other side who then run through. That gate is then opened again just minutes before the kick off which in court we were then shown the affect that had in the terraces, how the fans in Pens 3 and 4 start surging, almost in a wave, towards to perimeter fencing as more fans push through the tunnel behind them.
As the video footage continued we could see how some fans managed to climb over the fencing or be grabbed and pulled up by people in the stand above. We also saw how after the game on the pitch was abandoned, around and the supporters who'd managed to climb that perimeter fence and get to safety, start ripping down advertising hoardings as make-shift stretchers, carrying the injured to safety.
During the course of the questioning of Neil Makin, we've also heard how the Liverpool fans, all 24,256 of them who had tickets, had just 23 turnstiles to get into the ground, where as the Nottingham Forest fans, were allocated 60 turnstiles, which it was also agreed were wider and more spread out.
Mr Mansfield who represents most of the families also pointed out that looking at the ticket allocation, that for one section of the Leppings Lane end, 10,100 Liverpool fans had to get through seven turnstiles.
Mr Beggs who is representing the three match commanders on the day, asked the Senior Investigating Officer why he hadn't made any reference to the behaviour of certain supporters and also why there had to be segregation in the stadium? On both occasions the judge Lord Justice Goldring told Mr Beggs that those questions were contentious issues, and must be asked at a later date.

The reason being that the current motive of the hearing is to get the jury prepared for their visit to Hillsborough on Friday. They're being taken through various areas of the stadium, as it hay well have changed during the past 25 years.
---
Tuesday 20th May
The jury heard from Neil Malkin, the Senior Investigating Officer of Operation Resolve. That's the criminal investigation into the Hillsborough Disaster with 191 people based in Warrington.
He's been presenting the 'uncontentious, not controversial' background to the events on 15th April 1989. "We have had to examine somewhere in the region of half a million documents" and they have interviewed more than 2,000 videos and in the region of 7000 photos. Mr Malkin says the videos have let them work with the families of the 96 "help and assist them to understand what happened to their loved ones".
The jury were shown things like where the various CCTV cameras were, how fans arrived at the stadium, and even the different epaulettes warn by the 2941 police officers who were on duty during the disaster. They we also shown the insides of the stadium.
---
Tuesday 29th April
The final pen-portraits were given to the jury today, the first was for Peter Francis Tootle, 21, who's mum Joan said: "I sometimes remember little things Peter said and I find myself laughing. There was always a lot of laughter with him. "Peter was a lovely lad. "He was our lad".
The sister of Ian Thomas Glover, 20, said that two days after the disaster in 1989 was their mothers 50th birthday: "on her birthday flowers were delivered from Ian, ordered before going to the match." She went on to say: "Ian's clothes are still hanging in his bedroom. "Our family has never been the same." His brother was also at the game "Joe was able to escape from the pen but he then saw Ian being crushed through the fence and unable to help him." He was alter crushed to death in an accident at work.
The second wife of Peter Burkett's father, Anne Burkett remembers him as "full of life and a brilliant sense of humour" with LFC a big part of his life. His father wrote "the world is a better place for your having been here, son. "You were my legacy to this world. "Peter's favourite player was John Barnes, so he would have been thrilled to know that John Barnes attended (his funeral)". She became emotional as she told the jury "I can only imagine that as he got pushed into people on the terrace, he would have been apologising to them. He was just that gentle"
Steven Joseph Robinson was 17 when he died. "His mum Rose and sad Bernie remember Steven as a typical boy, oft in mischief but a real loveable rogue." Steven's brother struggled with his emotions as he says "for my 12th birthday, Steven got me the one present I had always wanted, he took me to Anfield in the Kop for my first ever live match. "He also took me on a tour of Anfield later that year."
The mother of Keith McGrath said "He was only 16 when he told me of this future plans, one of his work mates and he were going to set up their own painting and decorating business". She had to take a moment as she said: "We brought him a season ticket for his 17th birthday. All these years, I have been saying if we hadn't, he would be home safe today."
Finally we heard a second statement about Brian Christopher Matthews from his sister's Deborah, Brenda and Dianne Matthews. We had already heard from his widower yesterday. "It was solely due to financial circumstances and being from a working class background and certainly not aptitude which prevented him going to Oxford or Cambridge Universities. "The reputation of the fans was besmirched and we as a family have defended Brian's good character for the last 25 years. "He was the special one. He was our big brother, our mentor, our inspiration. He will always be our inspiration."
Before the judge adjourned the case, Mr Mansfield who represents the majority of families, stood and said: "I express both to you and your counsel, and to everyone in this court, (the families) appreciation, for the care for the patience, for the understanding that has been extended to each of them, each member of each family, over these weeks which has enabled them to unlock painful memories, as you (LJG) described them last week 'upsetting but also uplifting' and it has provided if I might say it this way, as a permanent testament to the dignity of the human spirit."
The jury will return on the 20th of May when they will hear the 'uncontroversial background facts about the disaster' from Neil Malkin who is the chief investigator on Operation Resolve, before they jury are shown maps and diagrams of the stadium. They will then visit Hillsborough on the 23rd.
---
Thursday 10th April
Monday 28th April
As the inquests go into the forth week the final pen portraits are being given to the jury.
Two background statements were given for James Robert Hennessy, the first from his sister Karen Gooding. She saud how "he liked school and he was a brilliant achiever academically, as reflected in his school reports. "He had started a new relationships and just launched his own plastering business around the time he died." His daughter Charlotte also gave a pen-portrait, she was 6 years old when he died, and she said that the smell of fresh plaster always makes her think of her dad."To date, we have lost out on 9145 days and not one goes be that I don't think about him. "It's like part of me is missing, I am incomplete. "We had so much together, so many more memories to mane and Hillsborough took that away."
James Phllip Delaney was 19 when he died, his brother said how their mother reacted "Afterwards things were never the same, I will always remember at around 4.15 that day she cuddled me like there was no tomorrow. "I believe it was her mother's instinct and I believe at that time she knew her other son, the rock of the family, was fading from us."
The jury heard from David Hawley's daughter Leanne, and her memories of going to the shop with her dad on a Friday night "he would buy us some goodies, we would go home and all sit on the couch and watch a film. "My dad missed out on all the important days of my life: the birth of my daughter, my wedding day, my graduation."
Stephen Francis O'Neill was named after the Liverpool winger Stevie Hayway, the jury heard how on the Thursday before he died, Stephen was in church when the pastor asked everyone to close their eyes, and to raise their hand if they wanted to make their peace with God "a friend of Stephen opened his eyes, and his was the only hand raised."
Kester Roger Marcus Ball, 16, travelled to Hillsborough with two friends and his dad who all survived "his dad was carried out unconscious." His mother read an excerpt from a project he had written at school about his future plans. "I would like to study in university, I would then like to go into banking, my dad's job. "I want to get married and have two children. "When I retire I would like to live in the Lake District and do a lot of walking. "When the year 2000 has arrived my family are going to meet up on New Year's Eve 1999 and celebrate the new century. "Kester never achieved these future hopes, he died aged 16 years."
The family of Anthony David Bland said that "the young man we knew lost his life on the 15th April 1989 and died in hospital four years later on 3rd March 1993."
Alan Johnston was 29 when he died at Hillsborough with him and his fiance having plans for a wedding that summer. "He was much loved by his family, he shall be missed with infinity. "Alan's close family is desperate for the justice he deserves."
Carl David Lewis' daughter Chantelle was just 11 months old when her dad died at Hillsborough. She said that his death was "so unexpected, so sudden and so cruel, the grief tore my family apart."
Gordon Rodney Horn's foster mother said how he didnt have the easiest start in life "he was one of four children who were removed from their mother into the care system. He was 20 when he died. "Gordon enjoyed playing the flute and played for the Liverpool Marching Band."
The final pen-portrait was for Brian Matthews. His widow Margaret said "he treated me to fabulous summer holidays and we had some very exciting and wonderful family Christmases". When he never returned from the game she borrowed a car and drove to Sheffield "an officer told me that he had bad news the tell me and I thought it was that Brian had been seriously injured. "I remember lying in bed and praying not to wake up for five years. "I was so lonely without Brian"
The last pen-portraits will be heard tomorrow.
---
Thursday 10th April
The end of Week Two of the inquests saw more pen-portraits which highlighted the young age of some of the 96, with all but 2 of today's statements being for teenagers.
Lee Nichol was 14 when he died a few days after the disaster. His mother Patricia described his love for Jon Bon Jovi "Lee was christened Lee Jon Bon Jovi just before his life support machine was turned off". As she spoke, a school picture of the smiling boy was put on screens around the coroner's court in Warrington. "It was incredibly emotional and touching to see such a display of love shown to my son. He also had a donor card "it is a testament to his kindness and Lee's donation has helped a number of people."
Janet Russell spoke about her son Colin Mark Ashcroft, 19, from Warrington who she saud "took an interest in politics as he got older and enjoyed watching Question Time on television, he thought Maggie Thatcher was the best thing since sliced bread. "When Liverpool got through to the semi-final against Nottingham Forest naturally he wanted to go. "We studied the diagram of the layout of the ground and decide he needed to go through the tunnel, as he wanted to stand behind he goal."
Simon Bell was then the focus with his sister saying that at the age of 17 he had a love of cricket "sometimes we thing something told him to make the best of his time." She also said how Lancashire County Cricket Club donated a number of 'Kwik Cricket' sets to local schools in Simon's memory.
Margaret Godwin told the jury that her son Derrick "a good boy, well behaved, polite a courteous. "He grew into a fine man, well grounded, sincere, thoughtful and hard working. "I clearly remember that on the morning of the semi-final, when he left home, his dad said to him 'I hope Liverpool win to which he replied 'oh, they will, dad', little did we realise that would be the last words we would ever hear him say."
Graham Wright was 17 when he died at Hillsborough, his brother Stephen described their close relationship: "From my earliest memory, my brother Graham was always with me. "It was a very close younger to older brother relationships. "He smiled and laughed a lot. He would sit there with his Mr Men books and it was no surprise Mr Tickle and Mr Happy were his favourites. "He was an altar boy along with his friend James Aspinall, who also sadly died alongside him at Hillsborough"
Arguably the most emotional part of the day were when Trevor and Jenni Hicks stood to talk about their daughters Victoria Jane, 15 and Sarah Louise who was on 19 when she died, but would have celebrated her 44th birthday today. "Sarah was loving life in Liverpool as an undergraduate, but of course she did not get to make the career choices. "a close friend of Sarah's who is now a consultant paediatrician. told me she maintains she never would have made it without Sarah".
"Vicky was a lovely girl who could charm monkeys out of the tree. "She was determined to be a sports reporter. Using an old typewriter from the loft, she taught herself to type and secretly produce a match report in her bedroom after every Anfield trip." They were found in a file after she died."
Trevor said about losing both his daughters "It's not that two is twice as bad. It's that you lose everything. The present, the future and any purpose"
At 67 Gerard Baron was the oldest person who died. The jury has already heard on pen-portrait, today they heard another from his son Gordon. "Last year, I was in Croston near Preston when a gentleman approached me and asked if I was related to Gerry Baron, he spent half an hour talking about dad, how people liked and had a lot of respect for him, when I left he said to me 'your sad was a damn good bloke'. We think that sums up out dad, a damn good bloke."
The final pen-portrait was for 30 year old Peter Thompson from Widnes. Is brother Denis spoke of how Peter's wife was pregnant with their first child at the time of the disaster, "He had a warm and generous nature, and a quick sense of humour. "Above all, he was completely without pretension. He would, I am sure, have been a wonderful father to Nikki."
The hearings are now adjourned until after the 25th Anniversary, sitting again for more pen-portraits on Tuesday 22nd April.
---
Wednesday 9th April
More pen portraits on Day 7 of the fresh inquests into the deaths of the 96 Liverpool fans at Hillsborough.
THe first was for Paul David Brady, 21, who's brother Michael read a statement written by their mother Marian. Paul was described as having "a very bubbly personality. "extremely popular, a great communicator. "He loved to socialise and was very much a people person."
Jacqueline Gilchrist spoke about Joseph Clark "The morning of 15 April 1989, that horrible day, was the last time he picked (his daughter) up before he left the house. "He loved Liverpool Football Club and I know that he was very proud to be able to take his own son to the matches at Anfield."
Michael Thompson told the jury about his son Stuart who was 17 when he was crushed in the Leppings Lane end. "Martin and Stuart were at the match together. "I learned afterwards that before going to the match that morning, Stuart had gone out to collect milk for his mother. "I was told about Stuart's death when I was at work. "I couldn't believe it and I was in shock." His brother Martin said: "He had the world at his feet at the time of his death, he was no longer a child, but he wasn't yet an adult. He didn't have time to blossom."
Andrew William Sefton was described by his sister Julie Fallon as "only ever himself when at home amongst family making the distant, violent nature of his death all the worse for my mother, who couldn't reach him when he needed her most." She recounted how they would always would give their mum three rings to let her know they were safe, "She never got his three rings. "We no longer have an inkling of what life without Hillsborough looks like, and ironically neither did my brother."
Jennifer Birtle said that her son David "became an ardent fan of Liverpool Football Club, sadly, that decision was to cost him his life." In her pen portrait she said how he had driven to the game in Sheffield, with his car being broken in to and his car radio stolen "he'd left his scarf in the car so people knew he was a Liverpool fan." Mrs Birtle was living in Oman at the time, and learned of the news of her son's death through his grandfather in Cannock, Staffordshire. "My dad had convinced himself that David would be helping, but I knew that David would have moved heaven and earth to call me." In the airport whilst getting a plane home she said "I had to listen to two expats reading the local paper and saying 'Oh, the police say it was hooligans', as if that was okay then, as if it was his own fault."
Andrew Mark Brookes travelled from his home in Bromsgrove, Worcestershire to Hillsborough that day. His sister Louise said that "the only time Andrew ever brought the police to my door was when they brought his clothes back. "Andrew was brought up to respect the police, when my brother most needed their help, they literally turned their backs on him."
The final pen-portraits on the day were written by Brenda Hewitt for her sons Carl and Nicholas Hewitt. "They both liked nothing more than playing football with friends at the back of the house in all weathers. "When I was made aware of the events that day, there was a very long wait to hear any news. "The supporters bus left the stadium with those onboard who were able to exit the ground. They left with two young boys missing."
---
Monday 7th April
Today's been the second day of families of the 96 reading out pen portraits of their loved ones.
First we heard from Theresa Arrowsmith, who lost her two brothers, Kevin Traynor, who was 16, and Christopher, who was 26.
Her voice broke at times, as she told the jury about her brothers, how she still has a patio set with two tables missing for them.
There were also smiles as Theresa told the court Christopher was a joker, and used to buy dog food, even though they didn't have a dog.
Next, the hearing heard from Sarah Brown, who was six months pregnant when her husband David, known as Steven, died.
Sarah told the court the fact Steven never got to meet and greet his baby, and when she gave birth to their daughter "not only only was I grieving for me, but for her too"
Jurors were given a short break between each family statement
The son of 62 year old John Anderson, Brian, read his pen portrait out, saying his dad used to take them to New Brighton, and taught them crabbing, he also told the hearing how his dad had a motorbike, and he and his mum used to go all over the country watching Liverpool play.
The family of Nicholas Joynes, who was 27 when he died, told the inquest "Nick was a talented footballer and did at one point have trials for Liverpool,but didn't quite make it"
The mum of 17 year old Henry Rogers from Chester read out his pen portrait "Everyone loved Henry, it was impossible to be cross with him, he was very good at losing things, he was a charmer"
She also revealed how his elder brother Adam had died just six months after the disaster, saying the "trauma of surviving Hillsborough,loss of his brother, and diabetes, resulted in his lonely death"
Liverpool-born hospital nurse Eric Hankin, who worked in Maghull, Merseyside, was remembered by his daughter Lynsey as a ``big friendly giant'' who had done his best to make his family happy.
Miss Hankin, who was 12 when her father died aged 33 in the crush on the Leppings Lane terracing, said: ``A big giant-shaped hole has been left in my heart since the day he died.
``I've learnt how to live with it but I don't think the pain will ever leave me.''
Francis McAllister's brother Mark told the hearing the 27-year-old had ``found his niche'' working for the fire service at Manchester Square station in central London.
After relating how Francis was saved from drowning in a boating lake during a family holiday in Wales, Mr McAllister said: ``Our father died nine years after Hillsborough, always regretting that he had not been on hand to save his son one more time.''
The hearing also heard from Sarah Brown, who's husband died while she was six months pregnant with their daughter
Sarah said he'd dreamt of being "the best daddy ever'' and said words could not describe the void left by his death at the age of 25 - adding "I can honestly say that he loved me with a passion that I never knew existed - the dedication and commitment that he showed towards me left me giddy.
``When I found out that I was pregnant and that his dreams were coming true, he was over the moon and full of pride.
``For Steven to have passed away when I was six months pregnant and never got a chance to meet and greet his new little baby, there are no words to describe that void.''
The inquests will continue on Tuesday morning at 10:30am when more pen portraits will be read out.