Man Who Killed April Jones Launches Appeal
16 December 2013, 10:25
Mark Bridger is appealing his whole life sentence
Mark Bridger, 47, was given a full life term in May this year after being found guilty of the abduction and murder of 5 year old April.
April went missing whilst riding her bike outside her home in Machynlleth in October 2011, her body has never been found.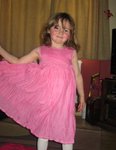 Talking to The Sun, April's mum Coral says: It's disgusting. He's in prison where he belongs and he should stay there, he's just torturing my family with these legal battles."