Online safety
1 July 2013, 15:33 | Updated: 1 July 2013, 16:37
Imagine you share one picture with just six friends.
Without you knowing, they could also share the same picture with their friends. If they each shared it with six friends, 42 people would have seen that picture, which you thought you had only shared with six of your friends. It this happened just 10 times. More than 60 MILLION people will have seen that picture.
So what? They're innocent pictures.
Qian Zhijun was sixteen, when a picture of him at a traffic safety event at his school in Shanghai was posted on an internet forum, with a call for people to alter it in the funniest way possible. It gained him the online nickname of Xiǎo Pàng, translated, Little Fatty.
Unlike many, Qian has actually used this to his advantage, and is now an actor and entertainer.
It is this type of editing to images which worries internet safety experts like Charles Conway, he's been working with Heart. "In 1990, the met police estimated there were 7000 indecent images of children, last year there were more than 26 million.
"There hasn't been a massive increase in the number of children being abused to this extent, these come from images being altered.
"One you post a photo online, you've lost control of it, even if you've only shared it with one person."
CHECK IN

Facebook, and other applications, let you 'check-in' to locations to show where you are. During a demonstration to Heart listeners, Charles showed that a friend of his, had tagged into the one place 37 times. This location was her child's primary school. There were also other locations, open for anyone to view; restaurants, play areas etc. Charles said: "We talk about what kids do online, but as parents we can be putting them at risk; telling people you're not at home, what school they go to, where you go every Sunday.
"People can start to see routines."

In another demonstration, Charles explained how from quickly looking over another of his friends Facebook accounts, he found his; home address, where he worked, is birthplace, date of birth, the names and ages of his children, and all the same information for his wife. "These are all the things needed for someone to steal your identity."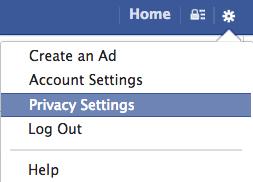 Facebook automatically sets all of our privacy settings to 'public' when you set up your account, you need to go into the privacy settings to make changes to who can search for you, who can see your pictures, and who can tagg you in status updates and pictures.
Charles Conway has written a book, "I Cant Keep Up! - A 'Clear and Crystal' guide to keeping your family safe online", to help parents get to grips with social media.