Prince of Wales Visits Rhug
2 July 2013, 18:32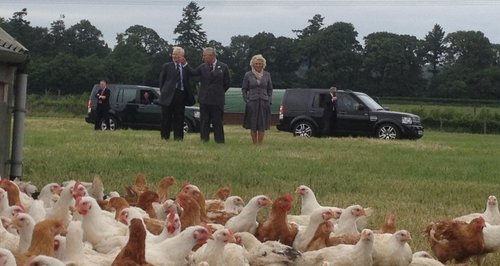 Prince Charles was accompanied by the Duchess of Cornwall as part of his summer tour
On day two His Royal Highness visited the Rhug Estate near Corwen, Denbighshire.
Starting with a walk around the 17th Century private chapel in the grounds, they were then taken on the estates organic farm where one Bison stood in the way of the Royal convoy, attempting to stop them getting into the field. They were also taken to see the organic, free range chickens. When they arrived the farms dog Dot made good her training in herding up the birds. Also grabbing one who had wandered free, carrying it back to the others.
Prince Charles and Camilla then went to the farm shop where they were meet by a crowd of locals who had come down to be part of the day.