Peterborough: Burglar Caught On Camera
21 February 2014, 10:56 | Updated: 21 February 2014, 11:00
A Burglar was caught after a quick-thinking woman took a photograph of him on her mobile phone as he fled the scene of an attempted break in.
The 44 year old spotted Gavin Coles trying to get into a house in Broadway, Peterborough, at about 4.30pm on September 16, but Police have only just released the details.

She challenged him then, when he ran off, quickly took a picture of him.

The image was circulated among local officers and subsequently identified as Cole.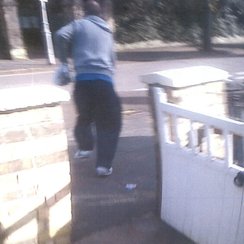 The 33 year old, of The Crescent, Orton Longueville, Peterborough, was convicted of attempted burglary at Peterborough Crown Court.

He was jailed for four years on Wednesday, February 12.

Detective Constable Liam Sweeney said: "Coles is a prolific burglar. I have no doubt he was planning to break into this home.

"Thanks to a quick-thinking witness, we were able to quickly identify and arrest him."