Peterborough: Controlled Explosion
19 February 2014, 14:17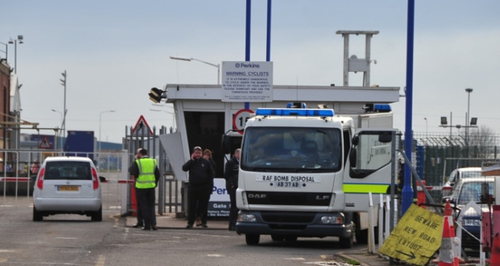 Police say there is now no threat to the public, following a controlled explosion, of an 'unstable chemical' at an engineering site in Peterborough.
Picture: Thanks to Peterborough Telegraph.
Staff were evacuated from the Perkins engineering site, shortly after 1.30am today (Wednesday).

A team from the Explosive Ordnance Department at RAF Wittering were at the scene and carried out a controlled explosion.

People were being advised to stay indoors as a precaution.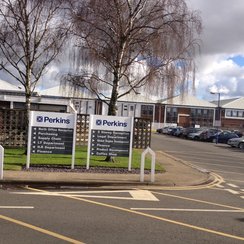 Gordon, a local Milkman, told Heart what he saw, "I was on my way to work, all the surrounding areas were blocked off, and I could just get into work, it was all closed off at the Perkins turning and the Parkway.
"Got into work, started loading up, and a Policeman came in and told us to vacate the area as there was going to be a controlled explosion in two hours."
The Perkins site is a manufacturing facility which produces engines for use in construction and agriculture machinery.


Inspector Kieran Mylchreest, from Cambridgeshire Police, said: "The engineering company called us to tell us they'd found this chemical in an unstable state and that they would like some assistance in dealing with it.

"The risk is very, very low to the general public. Those living in neighbouring streets should stay indoors as a precaution.

"We hope to resolve the situation as soon as possible.''

A spokeswoman for Cambridgeshire Fire and Rescue Service said a fire engine is on standby at the scene but the service has so far not been involved.
Update 07:27am
Frank Perkins Parkway has been re-opened, and Police cordon is being lifted.
The 'unstable chemical' has been moved deeper into the Perkins engine site, so local roads have been fully re-opened.
The controlled explosion will soon take place, by the Fire Service and Bomb Disposal Team.
Local residents are urged to keep their windows and doors shut, mainly in case of shrapnel.
'Unstable chemical' has been named as Trinitrophenol.
Update 08:00am
Cambridgeshire Police say a controlled explosion has been carried out on the 'unstable chemical'.
The incident has been completed, and there is now no threat left to the public.
Statement from Perkins Engines:
Perkins became aware that some material on site at its Peterborough facility may have become potentially unstable.
As a precautionary measure, Perkins' safety team and the appropriate authorities responded.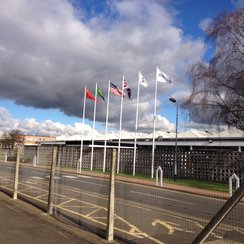 The area was evacuated and the material was contained by 8am.
It was discovered that some picric acid was potentially dehydrated on site.
In a dehydrated state, picric acid is potentially explosive.
At this point, it isn't clear whether the material was actually in an explosive state.
We are still investigating.
Our focus was making sure employees were safe and working with the appropriate authorities to safely assess and contain the situation.
The material was in a closed container and in a secure laboratory at the facility.
The appropriate authorities were alerted and able to assist with the situation.
Our first priority was to protect the health and safety of our employees and as a precaution, just under 100 workers on site were evacuated.
No one was injured.
Authorities have cleared the site and operations have returned to normal.