Lolham: Crossing Barrier Ripped From Hinges
11 January 2014, 06:00
A lorry driver who ignored a lowering level crossing barrier in Lolham, ripping it from its hinges, has admitted careless driving.
Heavy goods vehicle driver Stephen Miller admitted the offence at Peterborough Crown Court on Tuesday, 7 January.

The 45-year-old from Queensway, Manningtree in Essex, was fined a total of £380, and given four points on his license.

The court heard how Miller was approaching the level crossing on King Street in Lolham, near Helpston, on Tuesday, 2 April 2013 in a HGV around 10am.

As the barriers were lowering, instead of stopping, Miller carried on through the crossing causing the vehicle to collide with the barriers, seriously damaging them.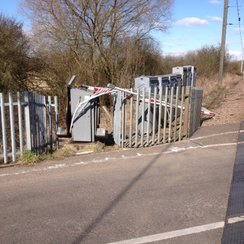 One of the barriers was so badly damaged, it was ripped from its mechanics and left bent across the rail tracks.

Trains running through the area were cancelled and the local road was closed by Cambridgeshire Constabulary, whilst new barriers were installed. As a result of the incident, trains were delayed by over four hours.

PC Sean White, the investigating officer from British Transport Police (BTP), said: "This not only caused inconvenience to local drivers, who were diverted and had to find alternative routes and to rail passengers whose journeys were disrupted, but we are lucky there were no injuries.

"We will continue to work closely with Network Rail in the area to improve knowledge and, where necessary like in this case, take action against those who continue to misuse crossings."

A Network Rail spokesperson said: "Too often, incidents like this disrupt the journeys of rail and road users and mean Network Rail has to spend vital funds on repairing damaged crossing equipment rather than investing that money elsewhere.

"Level crossings are there to keep people safe and drivers need to be aware that if the lights are flashing at a level crossing, it means 'stop'."