Peterborough: Degrees For Warwick Davis & Louis Smith
24 September 2013, 09:14 | Updated: 24 September 2013, 09:27
Cambridgeshire Olympian Louis Smith and Peterborough actor Warwick Davis are to be awarded honorary degrees.
The Anglia Ruskin University awards will be presented to the stars during ceremonies at Peterborough Cathedral on Thursday.
Louis Smith, who is from Peterborough and trains at Huntingdon Gymnastics Club, is being made Honorary Doctor of Health Sciences for his services to British sport.
Louis was one of the stars of London 2012, winning a silver in the Pommel Horse and bronze in the team gymnastics event.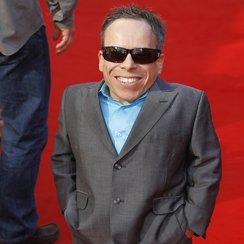 He also had a bronze medal from the pommel horse event in 2008 in Beijing.
Louis also has several World Championship, European Championship and Commonwealth Games medals.
Meanwhile Warwick Davis, the actor from Peterborough, is being presented with an Honorary Doctor of Arts award.
It is for his services to drama, and also his work to change the way short people are represented in film and television.
Warwick's film credits include Star Wars, Harry Potter and Merlin.