Peterborough: Dennehy Given Whole Life Term
28 February 2014, 15:17 | Updated: 28 February 2014, 16:07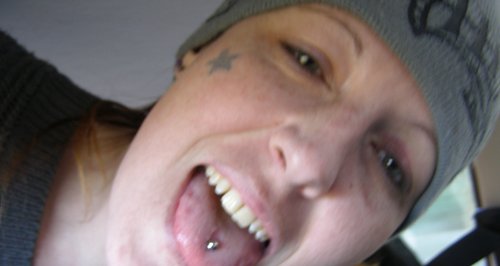 Peterborough serial killer Joanne Dennehy will spend the rest of her life in jail.
The triple murderer has been given a whole life prison sentence at the Old Bailey in London today.
Mr Justice Spencer told Dennehy she was "a cruel, calculating, selfish and manipulative serial killer'' as he sentenced the 31-year-old.
The ruling means she will never be released from jail.
Her appearance had been delayed pending a review of sentencing after the European Court of Human Rights ruled that whole life terms breached human rights.
But earlier this month the Court of Appeal upheld judges' right to imprison the most serious offenders in England and Wales for the rest of their lives.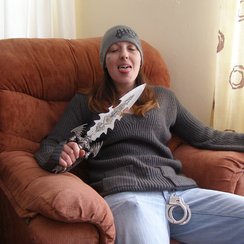 Dennehy, of Orton Goldhay, Peterborough, previously admitted the murders of Lukasz Slaboszewski, 31, Kevin Lee, 48, and John Chapman, 56, in and around Peterborough over a 10-day period.
She also admitted the attempted murder of two dog walkers, John Rogers and Robin Bereza, in Hereford while on the run from police as well as preventing the lawful and decent burial of her murder victims.
At an earlier hearing at Cambridge Crown Court, the killer shouted from the dock that she was sorry for the two attempted murders but expressed no remorse for the killings.
Gary Stretch, 47, of Riseholme, Orton Goldhay, Peterborough, who stands at 7ft 3ins, was found guilty of the attempted murder of Mr Bereza and Mr Rogers and three counts of preventing the lawful burial of a body after a trial at Cambridge.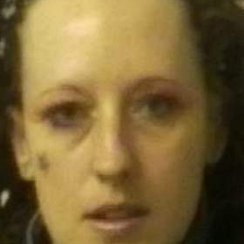 Leslie Layton, 36, of Bifield, Orton Goldhay, was found guilty of preventing the lawful burial of two murder victims and perverting the course of justice.
A third man, Robert Moore, 55, of Belvoir Way, Peterborough, is awaiting sentence after admitting assisting an offender.
During the trial, prosecutors said Dennehy "cast a spell'' over her alleged accomplices and some of her victims as she killed "for fun''.
Dennehy was likened to "Uma Thurman from Kill Bill and the woman from the Terminator'' by married father-of-two Mr Lee shortly before his death.
At the height of a nationwide man-hunt, she bragged to one witness that she had killed eight people - although no further murders have been detected.
All of the murder victims died from multiple stab injuries, including wounds to the heart.
After his death at a house in Rolleston Garth, Peterborough, on or around March 19, the body of Mr Slaboszewski was stored in a wheelie bin.
At one point a smirking Dennehy showed the body to a teenage girl, prosecutor Peter Wright QC told the court.
Along with Mr Chapman, who was killed in the block of bedsits he shared with Dennehy in Bifield on March 29, his body was later dumped in a ditch near the isolated Thorney Dyke.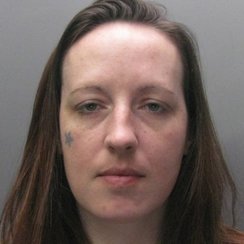 Mr Lee was also killed on March 29 in the same house as Mr Slaboszewski.
His body was found wearing a black sequin dress and positioned in a sexual pose in a separate ditch near Newborough, in what Mr Wright described as a "final act of humiliation''.
After the Peterborough killings, Dennehy had bragged that she and Stretch were "like Bonnie and Clyde'' as they drove 140 miles across the country to search out further victims.
The court heard that she drove to Hereford with Stretch in a Vauxhall Astra registered in the false company name Undertaker and Sons.
Once there the diagnosed psychopath attacked Mr Bereza and Mr Rogers in the street.
Cambridgeshire Police Reaction
Detective Chief Inspector Martin Brunning, who led the investigation, said: "Three men were brutally murdered in Peterborough and two men were stabbed in West Mercia – we are pleased today their killer and her willing accomplices are now behind bars.
Joanne Dennehy is a dangerous individual and will never be released to the public.
She is a sadistic serial killer with a fearsome personality and carried out these brutal attacks of men who posed no threat to her.
I am relieved her accomplices will also be facing a substantial period of time behind bars.
Our thoughts are with those families and the surviving victims who have been affected by these people's actions.
Two of the victims will live with what Dennehy has done for the rest of their lives. I hope today's sentence will provide them with some closure to these devastating events.
I'd also like to say we are thinking of the Dennehy family who are struggling to come to terms with what Joanne has done and I hope this result means they can also try to move on."
Tribute From Family Of Victim
The following is a statement from the family of Lukasz Slaboszewski:
"The sad news about Lukasz death shocked us all as no one had ever thought that such a tragic event would happen to our family.
The last time he had visited us was in December.
He was really thrilled with his new job.
The last time he contacted us was in March and his plans were to spend Easter with his sisters in London.
Lukasz was a sensitive person and was always eager to help others.
Not only was he friendly to everyone, he always made everyone laugh.
Our life will not be the same without him and we truly miss him.
We would all like to thank Cambridgeshire police and the detectives that were involved, for all their hard work and the amount of effort that has been put into this case.''