Peterborough: Dennehy Sentencing Hearings Begin
14 February 2014, 14:37 | Updated: 14 February 2014, 16:33
The sentencing of Peterborough serial killer Joanna Dennehy has begun at Cambridge Crown Court.
Dennehy, 31, stabbed three men in the heart and dumped their bodies in ditches last Easter.
Victims Lukasz Slaboszewski, 31, Kevin Lee, 48, and John Chapman, 56, were found beside fields outside Peterborough, in March and April last year.
'Unsatisfied' Dennehy then fled to Hereford in search of more victims.
She cruised the city and selected two other men at random, stabbing Robin Bereza, 64, and John Rogers, 56, who survived the cold-blooded attacks.
The violent murderer, who was handcuffed in court, has spent her days in a prison cell ever since after she confessed everything to police.
Dennehy admitted the murders and two attempted murders at the Old Bailey in November.
She also admitted preventing the lawful burials of her lover Mr. Lee, his Polish-born friend Mr. Slaboszewski and Falklands veteran Mr. Chapman.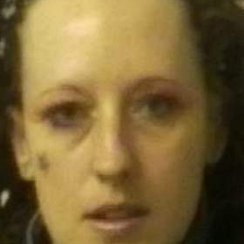 The mother-of-two appeared in court today alongside her three accomplices flanked by ten security guards, the distinctive star tattoo still clearly evident on her right cheek.
Dennehy sat calmly in the dock in a bright pink and grey tracksuit bottoms regularly glancing to her male co-defendants and often chatting to Stretch.
As she stood in the dock her arms are clearly etched with the scars of years of self harming.
A haunting grin regularly passed across her face and she even let out a silent snigger as Stretch was described as a "big fella".
Another broad grin also appeared when Dennehy heard prosecutor Peter Wright described her as a "mad woman" in his speech.
She even chatted to the female security guards as she sat smiling in the back row of the dock.
And as the court heard about victim Mr Lee being dressed in a black dress the corners of the killer's mouth twitched into a brief smile.
Mr Wright, prosecuting, told the court how Dennehy was "a woman with a turbulent past".
Citing a statement from her mother, he said: "She had difficult upbringing.
She was estranged from her family.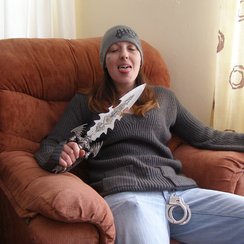 She made various allegations about the conduct of her parents which are denied.
She has previously asserted she has murdered her father who is alive."
Gary Stretch, who is 7' 3" tall, and Leslie Layton, 37, were convicted of helping her cover up the "terrible truth" on Wednesday (12/2).
Stretch, 47, real name Gary Richards, was found guilty on Monday of three counts of preventing a lawful burial.
He was also found guilty of the attempted murders of dog walkers Robin Bereza and John Rogers.
Layton was found guilty of preventing the lawful burials of Chapman and Lee and also found one count of perverting the course of justice.
Stretch and Layton, both of Orton Goldhay, Peterborough, Cambs., refused to give evidence in their defence at Cambridge Crown Court.
Their barristers claimed they acted under "duress" and in fear at what Dennehy, also of Orton Goldhay, Peterborough, Cambs., might to do them.
They both appeared alongside Dennehy in court with their heads in their hands clearly tired from the month-long trial.
The towering figure of Stretch sat slumped on his chair - but his gaze was transfixed on Dennehy for the majority of the hearing.
The family of Mr Lee also watched on from inside the court room, visibly upset as they heard the gruesome details of their relative's death.
Robert Moore, 56, of Peterborough, has already admitted assisting Dennehy at a previous hearing.
He helped harbour the killer and Stretch as they attempted to evade police following the murders.
Detectives investigating the case have previously said the father was "infatuated" by Dennehy.
But he appeared agitated with teary eyes as he heard the evidence read out to court.
The prosecution sentencing speeches continue and are expected to finish Monday.