Kimbolton: Gang Members To Pay Back £109,000
Three members of a ram raid gang who stole more than £30,000 from a bank have been ordered to pay back a total of £109,000.
Ivan Hutchinson, Ebby Hall and Kevin Smith were each jailed in July for their role in the raid in Kimbolton in September 2012.

They had been part of a gang who had plotted and carried out the raid which involved ramming through a wall of a Barclays Bank in a stolen JCB.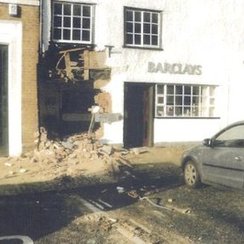 But all three were each ordered to pay back £36,658.33 at a Proceeds of Crime Act hearing at Peterborough Crown Court on Thursday (January 16).

The court calculated the total criminal benefit by adding the £34,190 in the stolen ATM to the total value of the stolen vehicles used in the crime - £75,785 - even though they were all found burned out.

All three have six months to pay the money or face a further six months in prison. However, regardless of the punishment, the order will stay with them until it is paid off.

Property seized by police, including a BMW 320D, Bailey Pageant Caravan and ride-on lawnmower, were also ordered to be destroyed or sold at auction.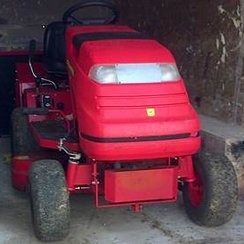 A further hearing will be held next month for the fourth member of the gang, Richard Clues, who may have to share some of the £109,000 payback.

Economic Crime Unit Manager Paul Prosser said: "This case shows we will pursue criminals to ensure they don't make a penny from their criminality.

"Despite only getting away with £34,000, they must now pay back more than three times that amount.

"This should serve as a warning to anyone who thinks they can make easy money through crime. The message is simple: Crime does not pay."

Hutchinson, Hall, Smith and Clues hatched a scheme to steal high powered vehicles, disguised them with faked number plates, then carried out the smash and grab operation.

After ramming through a wall of the bank, the ATM was ripped out and loaded onto a Ford Focus which had been stolen from Wootton, Bedfordshire, nine days prior.

A Land Rover which had been stolen from Crowland on September 24 was seen nearby.

A BMW, which had been stolen in Norfolk in July 2012, was spotted being driven by a man in a balaclava along the A605 at 125mph shortly afterwards. Police followed the vehicle to the Norwood Road traveller site in Peterborough. The driver reversed, ramming the police car several times before eventually stopping and the occupants ran off. Officers gave chase and Hall was arrested nearby.

An angle grinder and faked number plates were discovered in the boot of the BMW.

The Land Rover, Ford Focus and ATM were all found burned out in a copse of trees the following day in Keyston.

Hall, 45, of White Post Road South, Eye, and Smith, 29, of Claylake, Spalding, admitted conspiracy to steal motor vehicles and conspiracy to burgle.

Clues, 60, of Risby, Bretton, Peterborough denied conspiracy to steal vehicles but admitted converting/disguising criminal property in relation to making number plates.

Hutchinson, 29, of Brington Road, Brington, Huntingdon, had initially denied any involvement, claiming he was not linked to one of the mobile phones. However, he changed his plea when it emerged that one of the key contacts within the phones was his wife.

He pleaded guilty to conspiracy to steal motor vehicles and conspiracy to burgle.

Hutchinson was jailed for seven years and two months, Hall and Smith were both sentenced to five years and three months, with Hall given a further 10 months to run consecutively for breaching a suspended sentence.

Clues was jailed for 18 months.