Wisbech: Goose Shot With Crossbow
29 April 2014, 12:33 | Updated: 29 April 2014, 12:40
The RSPCA has launched an appeal for information after a goose was shot with a crossbow, near Wisbech.
The wounded bird was spotted with a razor-tipped bolt sticking out of his back in the village of Elm in Cambridgeshire on April 23.

He was taken to the charity's nearby East Winch Wildlife centre where the bolt was removed and he is now receiving treatment.

The bird, who has been named Achilles by RSPCA staff, is the last of a group of geese which used to live around two village ponds near Grove Gardens.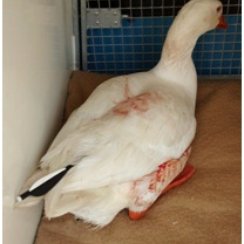 X-rays revealed that he had an old fishing line wound and an airgun pellet embedded in his left leg. He had also previously suffered a fractured right wing.

RSPCA inspector Jon Knight said: ``This poor goose has been through a number of wars - it is pretty amazing he is still with us.

``We named him Achilles after the virtually indestructible Greek demigod because of the number of ordeals he's survived - it seemed fitting somehow.

``He was the last goose left living on this pond. There always used to be geese and other water birds living here - but many have been deliberately run over or shot with air guns and on one occasion used as a football over the past five years or so. No perpetrators were ever identified.

``It has been incredibly upsetting having had to deal with the amount of abused and suffering birds found on these village ponds. It also seems very sad to me that there are no water birds left on the village pond for the community to enjoy.

``If anyone knows anything about this attack we urge them to come forward.''

Inspectors believe Achilles was shot with the crossbow overnight between April 22 and 23.

He is now expected to make a full recovery and the charity hopes to find him a new home where he can live as a pet.

Anyone with information can contact the RSPCA in confidence on 0300 123 8018.