Peterborough: Hospital Considering Private Takeover
9 April 2014, 10:01 | Updated: 9 April 2014, 12:49
The trust that runs Peterborough City Hospital say they are looking into the possibility of a private takeover.
It comes after their regulator, Monitor, ruled the Peterborough and Stamford NHS Foundation Trust as 'financially unsustainable', in a report, last year.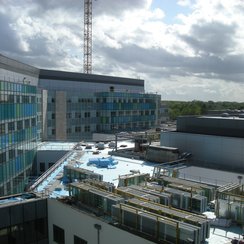 The trust have told Heart they are looking at various ways of saving money.
They say they are looking at ways for private organisations to use part of the hospital building, and say it could range from a private healthcare company taking over a particular ward, to them taking over the entire hospital.
Dr Peter Reading, interim chief executive at Peterborough and Stamford Hospitals NHS Foundation Trust, said, "At this stage we would not discount any option presented, however the tender process is designed to identify those options which would maximies the use of the hospitals."