Huntingdon: 13 Year Old's Year In Tent
24 August 2013, 06:00 | Updated: 24 August 2013, 07:07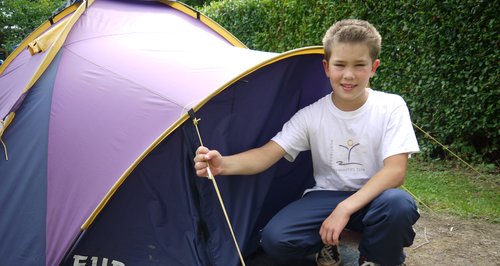 13 year-old Harry O'Driscoll from Buckden, near Huntingdon, was 12 when he began his year long marathon sleep-out.
Harry has been sleeping out in a tent in his back-garden for a year, to raise money for his local gymnastics club in Huntingdon, which he's been attending since he was five.
Last August, his mum Polly jokingly said he should sleep out side after he complained it was too hot.
So he decided to take up his mum's suggestion, and at the same time raise money for the club.
The Huntingdon Gymnastics Club is the training home for Olympic gymnast and pommel horse competitor Louis Smith.
The centre is very popular and needed an extension so the professional athletes and those taking the junior classes didn't clash or disturb each other.
Building work's already started on the £600,000 extension, but the club needed a loan and lots of donations to pay for the redevelopment.
Harry set himself an enormous target of £3,000, and by this morning (Saturday 24th August), he'd smashed that reaching a total of £5,100 which will go towards the overall fundraising efforts of around £100,000.
Harry told Heart the winter was okay when it was snowing but "the icy nights were quite difficult to cope with - I just had extra layers!"
Harry added: "It's quite cosy in there but I don't like it when it was raining because when you crawled into the tent, you got wet and then you'd have cold wet clothes for the night.
You'd see the nice warm house and think, when you're not feeling very well or when it was cold I'd like to be in there.
But I didn't - I stayed outside."
Heart asked Harry if he was troubled by any creatures of the night: "Yeah, a few slugs and my rabbit got out and got into the tent and that gave me a scare in the night.
A five-man tent was donated to the cause to give Harry a bit more room and amongst his friends and supporters Harry invited to a sleep over Louis Smith unfortunately declined.
Harry told us: "He's scared of spiders and he's never spent a night in a tent in his life, so he didn't make it!"
Tonight (Saturday), the very last night, Harry will leave the back-garden and pitch up for the evening to a finale sleep-out outside the Gym club.