Peterborough: Jury Retires In Ditch Case
4 February 2014, 16:09 | Updated: 4 February 2014, 16:19
The jury in the trial of two men accused of helping Peterborough serial killer Joanna Dennehy in her 10-day spree of violence has retired to consider its verdict.
Dennehy, 31, has admitted stabbing three men in the heart in March last year before dumping their bodies in isolated ditches on the outskirts of the city.
Prosecutors have told Cambridge Crown Court that Dennehy, who has been diagnosed with a psychopathic disorder, "cast a spell'' over Gary Stretch and Leslie Layton, who are accused of helping dispose of the victim's bodies and cover up the "terrible truth'' of the murders.
The jury of eight women and four men retired at 3.40pm today following a three week trial.
The bodies of Lukasz Slaboszewski, 31, Kevin Lee, 48, and John Chapman, 56, were found in March and April last year.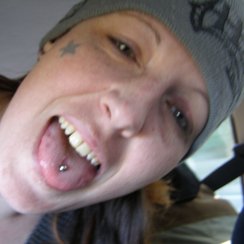 Mr Slaboszewski was killed at a house in Rolleston Garth, Peterborough, on or around March 19.
Afterwards Dennehy stored his body in a wheelie bin - on one occasion showing it to a teenage girl - before dumping it with Mr Chapman's body at Thorney Dyke.
Mr Chapman was killed at the block of bedsits he shared with Dennehy at Bifield and Mr Lee at the same house where Mr Slaboszewski died, on March 29.
After the killings, Dennehy and Stretch drove to Hereford where she selected two other men - Robin Bereza and John Rogers - at random, the court has heard.
She repeatedly stabbed the dog walkers in the street but both survived.
Neither Stretch nor Layton has given evidence in their defence.
Both men accept their involvement but claim they were acting under duress.
Their barristers have told the court they were scared of Dennehy and thought they could become her next victims.
Stretch, real name Gary Richards, 47, of Riseholme, Orton Goldhay, Peterborough, has denied three charges of preventing the lawful burial of all three men and two counts of attempted murder.
Layton, 36, of Bifield, Orton Goldhay, has denied perverting the course of justice and two counts of preventing the lawful burial of the bodies of Mr Chapman and Mr Lee.
Dennehy, of Bifield, Orton Goldhay, Peterborough, pleaded guilty to the murders at the Old Bailey in November and is in custody awaiting sentencing.
She also admitted preventing the lawful and decent burial of all three victims and two charges of attempted murder.