Peterborough: Pair Who Tried To Car Jack At Gunpoint Are Jailed
22 November 2013, 09:59 | Updated: 26 November 2013, 10:00
A couple who tried to carjack a driver at gunpoint in Farcet have been jailed.
James Zimmerman, 41, and Rebecca Ferguson, 38, threatened the stunned driver of a Ford Focus after forcing him to stop by standing in the middle of The Broadway at about 6pm on April 28.

Zimmerman then pointed a gun at the 58-year-old victim's head ordering him to get out of the vehicle, while Ferguson jumped into the passenger seat. The driver managed to drive off, pushing Ferguson out of the car.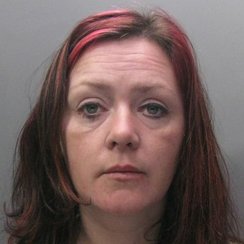 Several witnesses saw the incident and the descriptions they provided, along with CCTV images, identified the offenders.

Both were arrested at an address in Whitwell, Paston, Peterborough, on May 2.

An air pistol was discovered hidden under the sink of the home.


Both were convicted of possessing an imitation firearm while attempting to commit an offence following a trial last month. Zimmerman, of Grove Court, Peterborough, had admitted possession of an imitation firearm with intent to cause fear - Ferguson, of Chadburn, Paston, Peterborough, was found guilty of that charge.

Zimmerman was jailed for a total of five years while Ferguson was sentenced to four years in prison at Peterborough Crown Court on Wednesday (November 20).

Detective Constable Derek Cornhill, who investigated, said: "This was an extremely unusual incident where two people have effectively tried to 'car jack' a driver in a quiet town on the outskirts of Peterborough.

"The victim was subjected to a terrifying ordeal during which he had a gun pointed at his head. He has shown commendable bravery in giving evidence against the offenders to ensure they have been brought to justice.

"This kind of behaviour simply will not be tolerated and offenders face a lengthy spell behind bars."