Peterborough: Accused 'Warned' Of Dennehy Murder
16 January 2014, 15:09 | Updated: 16 January 2014, 16:12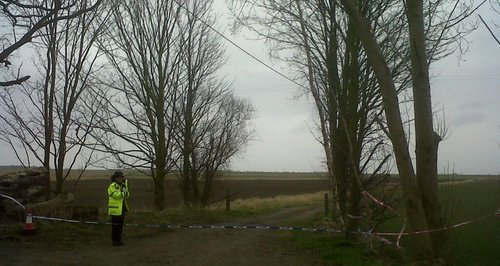 A man from Peterborough accused of helping serial killer Joanna Dennehy had warned she may murder one of her victims, a court has heard.
Dennehy, 31, has admitted stabbing three men in the heart and dumping their bodies in ditches in Cambridgeshire.
Two men, Gary Stretch and Leslie Layton, are accused of helping her dispose of the bodies and cover up the killings.
Giving evidence at Cambridge Crown Court, Carla White, who lived in the same house as Stretch, said Dennehy had seemed ''rude and arrogant''.
She said people had been intimidated by the killer - also known as Star because of her facial tattoos - and described how she had once grabbed her around the throat for no reason.
Ms White recalled a conversation with Stretch in the days leading up to Good Friday, when Dennehy's final victim, Kevin Lee, was killed.
She said: "He said Mr Lee hadn't paid Dennehy for work she had done on the house and she was getting stressed and he was harassing her.
He said 'she will kill him'.
I said 'don't be silly, she would do anything like that'.
He said 'believe me, she would, she will kill him'.''
Ms White added that Stretch, who is 7ft 3ins tall, was a ''gentle giant'' but would not do anything he did not want to.
The bodies of Lukasz Slaboszewski, 31, John Chapman, 56, and Mr Lee, 48, were found dumped in ditches in March and April last year.
Police believe Slaboszewski was killed around March 19 while the final two victims were killed on March 29.
The court has heard married father-of-two Mr Lee, whose body was found wearing a black sequin dress in an act of ''humiliation'', had been having an affair with Dennehy.
Ms White said she was surprised by this relationship as she thought Dennehy was gay.
Prosecutor Peter Wright QC described how, after the killings, Dennehy and Stretch drove to Hereford where they selected two other men Robin Bereza and John Rogers, at random.
She repeatedly stabbed them both in the street but both survived.
Opening the case, he said that as they searched for fresh victims Dennehy repeatedly told Stretch: ''I want to have my fun.''
Mr Wright added: ''Dennehy told him 'find me a victim'.
She didn't want it to be a woman, she wanted it to be a man.''
Another witness, Kieran James, said he knew John Chapman and would often chat to him.
Mr Chapman, originally from Leeds, would show him wounds he suffered while serving in the Falklands war with the Navy, he said.
He also knew Stretch and recalled seeing him behaving suspiciously in Bifield around Good Friday.
Mr James said: ''It was about 11.15pm and I saw him carrying a big bin liner in his arms.
It seemed to be something fairly heavy.
He put it in the boot of the car and the suspension of the vehicle went down.
There were other black carrier bags in the boot.''
Dennehy, of Orton Goldhay, Peterborough, pleaded guilty to the murders at the Old Bailey in November and is in custody awaiting sentencing.
She also admitted preventing the lawful and decent burial of all three victims and two charges of attempting to murder.
Stretch, real name Gary Richards, 47, of Riseholme, Orton Goldhay, Peterborough, has denied three charges of preventing the lawful burial of all three men and two counts of attempted murder.
Layton, 36, of Bifield, Orton Goldhay, has denied perverting the course of justice and two counts of preventing the lawful burial of the bodies of Mr Chapman and Mr Lee.
A third man, Robert Moore, 55, of Belvoir Way, Peterborough, has admitted assisting an offender and is also awaiting sentence.
Two witnesses - Ms White and Paul Creed - told the court Dennehy had claimed she served time in prison after murdering her own father because he abused her.
Mr Creed, a business partner of property manager Mr Lee, said she had made the claim after coming into their office to let a room from them.
He added: ''I did not want to house her. Mr Lee's attitude was she had been honest with us and he wanted to give her a chance.''
Ms White said that she later heard that Dennehy's claims were a lie.
The court also heard that Stretch had said a Vauxhall Astra, which prosecutors say was used to dispose of the bodies, was registered in the name of a made-up firm of undertakers.
Mr Creed said he had approached Stretch to warn him the car was parked illegally close to the time of the killings.
He said: ''He said he wasn't bothered because the car was registered with a false company called Undertaker and Sons to a PO box in Wales.
He was quite calm and collected about it.''
Mr Creed added that he later discovered that Dennehy's father was alive and well.
He raised the alarm and reported Mr Lee missing to police on March 29 after growing concerned for his welfare.
The court heard that Mr Lee, his wife Christina and several friends suspected that Dennehy had ''recently killed an immigrant''.
But Mr Creed added that nobody had contacted police about these concerns.
The case is expected to last up to four weeks.