Peterborough: Armed Robbery At Store
13 June 2013, 16:14 | Updated: 13 June 2013, 16:54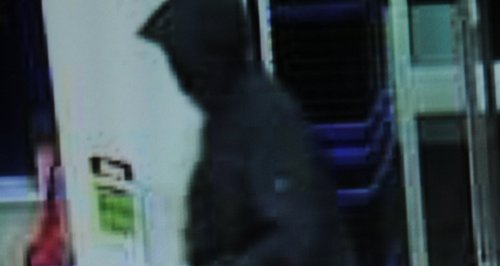 A shop worker has had a knife held to his throat during an armed robbery in Peterborough.
It happened at the Co-Op in Southfields Drive, Stanground, at around 10pm yesterday (Wednesday).
Three staff members were preparing to close the store when a man wearing a mask went into the shop.
Cambridgeshire Police say he held a large knife to the throat of a worker, and demanded money from his colleagues.
An employee gave the robber cash, who then fled the scene.
Police have released a CCTV image [pictured - above] of the suspect.
Cambridgeshire Police describe the robber as being about six foot, slim and wearing light grey tracksuit bottoms that were tucked into his socks, trainers and a dark grey ski-type jacket with the hood up.
He wore a tight black "Morph"-type mask.
Detective Sergeant Lisa Alexander, who is investigating, said: "This was a terrifying ordeal for the staff, who were faced with an aggressive offender who grabbed one of them into a headlock and held a knife to his throat.
Fortunately, the victim was not badly injured but he did suffer a slight injury to his neck.
I am very keen to catch the man responsible and would urge anyone who saw a man matching his description in the area to contact police.
Any information, no matter how small it may seem, could prove very important to this investigation."
Anyone with information is asked to contact Det Sgt Alexander on 101, or Crimestoppers, anonymously, on 0800 555111.