Peterborough & Spalding: Smuggling Arrests
18 July 2013, 10:29 | Updated: 18 July 2013, 10:37
Five people have been arrested during raids in Peterborough and Spalding, as part of an investigation into a £6 million cigarette smuggling fraud.
Around 100 HM Revenue and Customs Officers, working with Police and Trading Standards, searched more than 30 homes, shops and warehouse storage units yesterday.
630,000 illegal white cigarettes were seized.
Five men were arrested on suspicion of being involved in excise fraud, primarily the illegal importation of Jing Ling cigarettes.
Three of the men were arrested in Peterborough, with another two arrested in Spalding.
£13,000 was also confiscated from two properties in Peterborough.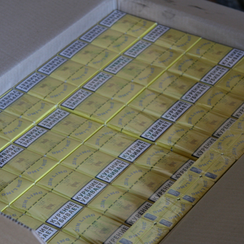 Richard Las, HMRC's Deputy Director for Criminal Investigation, said: "This operation is an HMRC-led investigation targeting suspected cigarette smuggling and money laundering offences, centred on Peterborough and Spalding.
We cannot provide any further information as the investigation is continuing.
Our activity today sends out a clear message to those involved in this type of criminality.
Attempts to import, distribute and sell tobacco goods on which UK duty has not been paid are treated extremely seriously by HMRC, and we will relentlessly pursue any individuals or crime gangs believed to be involved."