Peterborough: Protests "Peaceful & Without Incident"
30 March 2014, 08:22 | Updated: 30 March 2014, 08:28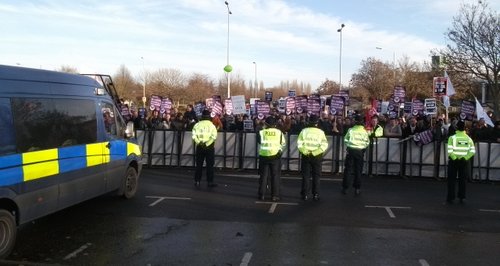 Cambridgeshire Police say Peterborough was largely unaffected by two large scale protests yesterday.
The English Defence League held a protest in the city, and there was also a counter-demonstration by the Peterborough Trades Union Council.
Just one arrest was made, a 46-year-old man who was taken to Thorpe Wood Police Station for questioning on suspicion of a public order offence.
Specialist public order officers, dog units, horses and a helicopter were all on duty.
Several hundred police officers from a total of 12 forces were on patrol.
There were also extra community patrols throughout the city to provide reassurance to local people and deal with any incidents.
Peterborough District Commander Supt Tony Ixer said: "Our aim today was to facilitate two peaceful protests while allowing the people of Peterborough to go about their business as usual and I am delighted this is what happened.
We had sufficient resources on the ground to police the protests, carry out patrols in the city centre and key locations and deal with business as usual for the force.
I would like to praise both sets of protestors and the people of Peterborough for ensuring today passed off peacefully and without incident."
Peterborough Young People Praised By City Council
Peterborough City Council Chief Executive Gillian Beasley said: "I'd like to thank the people of Peterborough for standing together and showing the city's strength of community and for going about their daily lives as usual.
The city centre was a hive of activity today showing that people have been largely unaffected by the protests.
I was also very impressed with the police operation which ensured both protests were able to pass peacefully with very little disruption to the city.
We have been working very closely with our communities, businesses, police and partner organisations over the past few weeks to allay any concerns and reassure the community and to ensure the city could return to normal as quickly as possible after the demonstrations.
Today we had 25 youth workers out in our neighbourhoods talking to our young people and organising events including a football tournament which around 100 young people competed in.
Our young people have behaved maturely and responsibly and I would like to thank them for not reacting to the protests.
We also had teams working with the police to ensure our temporary road closures were removed as soon as it was safe to do so to allow our city to return to normal.
Our call centre staff were able to reassure and provide information to 37 people who rang in on the day, and only three of those calls were directly related to the protests."