Ramsey: Teacher Jailed For Sexual Abuse
23 August 2013, 16:29 | Updated: 23 August 2013, 17:29
A teacher from Ramsey, who sexually abused pupils at a boarding school for boys with behavioral problems, has been jailed for eight years.
Phillip Dyke, 62, admitted a catalogue of offences against seven boys at Hailey Hall near Hertford over an eight year period in the 1970s and 1980s.

He would befriend his victims and take them back to his flat for where the abuse took place, St Albans crown court was told.

One angry victim told the police: "Hailey Hall was an awful place.
Things went on there that you wouldn't want to happen to your dog."

The man, who is now in his 40s, confirmed he was the boy seen posing in his underpants in a indecent photograph found in Dyke's possession.

Prosecutor Alan Blake said Dyke, who now lives near Ramsey in Cambridgeshire, began work at Hailey Hall when he was aged 22.

The prosecutor said: "The school was for children aged 11 to 16, who had emotional or behavioural problems.

They came from broken homes or had committed petty crime.
They had been excluded or suspended from mainstream education. It took 60 pupils who were weekly boarders, although some were day pupils."

He said Dyke lived in a flat off one of the three wings at the school and would assist in controlling the dormitories: "The defendant was responsible for the care and supervision of the boys.
He was in a position of loco parentis.
The victims were all vulnerable and it was a breach of trust, " said Mr Blake.

Dyke's past caught up with him when a man attended counselling sessions and said what happened "kept going through his head" and caused him depression.

He went to the police.
When officers interviewed him he said Dyke had waited for him outside a shower and persuaded him to come to his flat dressed only in a towel.

Once inside he pulled down the towel and abused him.
Other offences took place when the boy went into his flat in his pyjamas.
He said he was too embarrassed to tell anyone at the time.

Dyke was arrested on 15 February last year and denied the offences saying: "You know what kids were like back then."

A briefcase was seized from his loft and was opened by Dyke after he recalled the combination.
Inside were pornographic and naturist magazines along with a Boots photographic wallet, which contained photographs of Dyke and boys in his car posing in their underpants.
As a result Hertfordshire detectives sent out a mail shot in an attempt to find others who had been at the school.
160 boarders were identified and 80 were located.
The police received 30 responses.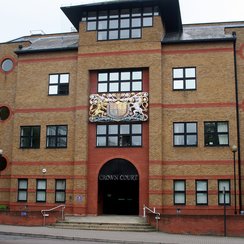 Dyke of High Street, Bury, Ramsey, Cambridgeshire admitted charges of indecent assault, gross indecency, buggery and one of taking an indecent photograph. He had no previous convictions.

Julia Faure Walker, defending, said the last offence was 27 years ago.
Since then Dyke had married and had "an unblemished record" in the other schools.

Judge Martin Griffith told him: "The recurring aggravated feature is that you were a teacher employed to look after and assist obviously troubled young men.
You abused the trust placed in you by the school giving you accommodation near the dormitory.

You targeted vulnerable victims.
You told the writer of a probation report when you visited the school you noticed naked young me in the showers and that attracted you to teach there.
There were multiple victims and repeated assaults over the years."

Dyke will be on the sex offender register for life.

After the sentencing DC Rob Scott said: "When the photographs were discovered it was clear that a number of boys were involved.
We tried to contact as many former pupils as we could and sent out a bland asking to hear about their experiences at the school.

The school is very different now.
At the time the boys there were vulnerable and exploited by Dyke.
If there are any others who were victims of abuse I would urge them to contact us."