Peterborough: Serial Killer 'Like Shakespearean Villain'
31 January 2014, 11:28
A defence barrister has likened serial killer Joanna Dennehy to a Shakespearean villain who bent her alleged accomplices to her will.
Delivering his closing speech at Cambridge Crown Court, Karim Khalil QC, representing Gary Stretch, said his client had been taken in by the "evil of a woman who described herself as a monster''.

He added that, while few playwrights or authors would have dared pen such a "ghastly tale of criminality'', Dennehy's killings were reminiscent of a Jacobean tragedy.

Mr Khalil added: "Shakespeare and Jacobean writers understood how one foul deed could beget a sequence of tragic circumstances.''

He added that killers like Dennehy surrounded themselves with people they knew to be weak or who they could "bend to their will''.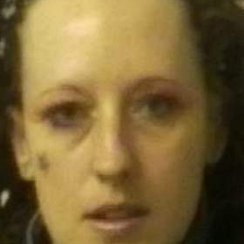 "In such circumstances, ordinary people behave in ways that they would have thought inconceivable,'' Mr Khalil said.

"The question in this case is, may there have been a reasonable fear of death which caused Mr Stretch to act as he did?''

Dennehy, of Orton Goldhay, Peterborough, has admitted murdering Lucasz Slaboszewski, 31, John Chapman, 56, and Kevin Lee, 48, whose bodies were found in ditches in Cambridgeshire last year.

She has also admitted the attempted murders of Robin Bereza and John Rogers, whom she randomly selected and stabbed in the street in Hereford, and preventing the lawful and decent burial of all three murder victims.

Two men, Stretch and Leslie Layton, are standing trial accused of acting as her accomplices.

Neither has given evidence in court and no defence witnesses have been called.

Both men accept their involvement but claim they were acting under duress.

Recounting a conversation in which Dennehy had laughed when asked by former cell-mate Georgina Page if she felt bad about killing three people, Mr Khalil said: "Mr Stretch did not laugh.

"He said 'It makes me feel sick. I'm not a killer or a murderer.''

Describing his client as a "nodding dog'', he added: "It is plain that Mr Stretch was fearful of what she might do, not boasting about it or enjoying it all.''

Stretch, real name Gary Richards, 47, of Riseholme, Orton Goldhay, has denied three charges of preventing the lawful burial of all three men and two counts of attempted murder.

Layton, 36, of Bifield, Orton Goldhay, has denied perverting the course of justice and two counts of preventing the lawful burial of the bodies of Mr Chapman and Mr Lee.

A third man, Robert Moore, 55, of Belvoir Way, Peterborough, has admitted assisting an offender and is also awaiting sentence.