Peterborough: Serial Killer To Be Sentenced
28 February 2014, 06:17 | Updated: 28 February 2014, 07:24
Psychopathic serial killer Joanna Dennehy and her three accomplices will appear in court to be sentenced today.
The 31-year-old, who murdered three men before randomly selecting and repeatedly stabbing two others in March and April last year, will appear at the Old Bailey this morning where she will be jailed for life and a judge will decide the minimum term she will serve.

Her appearance had been delayed pending a review of sentencing after the European Court of Human Rights ruled that whole life terms breached human rights.

But earlier this month the Court of Appeal upheld judges' right to imprison the most serious offenders in England and Wales for the rest of their lives.

Dennehy, of Orton Goldhay, Peterborough, previously admitted the murders of Lukasz Slaboszewski, 31, Kevin Lee, 48, and John Chapman, 56, in and around Peterborough over a 10-day period.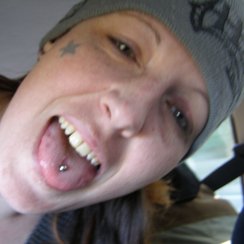 She also admitted the attempted murder of two dog walkers, John Rogers and Robin Bereza, in Hereford while on the run from police as well as preventing the lawful and decent burial of her murder victims.

At an earlier hearing at Cambridge Crown Court, the killer shouted from the dock that she was sorry for the two attempted murders but expressed no remorse for the killings.

Gary Stretch, 47, of Riseholme, Orton Goldhay, Peterborough, who stands at 7ft 3ins, was found guilty of the attempted murder of Mr Bereza and Mr Rogers and three counts of preventing the lawful burial of a body after a trial at Cambridge.

Leslie Layton, 36, of Bifield, Orton Goldhay, was found guilty of preventing the lawful burial of two murder victims and perverting the course of justice.

A third man, Robert Moore, 55, of Belvoir Way, Peterborough, is awaiting sentence after admitting assisting an offender.

During the trial, prosecutors said Dennehy "cast a spell'' over her alleged accomplices and some of her victims as she killed "for fun''.

Dennehy was likened to "Uma Thurman from Kill Bill and the woman from the Terminator'' by married father-of-two Mr Lee shortly before his death.

At the height of a nationwide man-hunt, she bragged to one witness that she had killed eight people - although no further murders have been detected.

All of the murder victims died from multiple stab injuries, including wounds to the heart.

After his death at a house in Rolleston Garth, Peterborough, on or around March 19, the body of Mr Slaboszewski was stored in a wheelie bin.

At one point a smirking Dennehy showed the body to a teenage girl, prosecutor Peter Wright QC told the court.

Along with Mr Chapman, who was killed in the block of bedsits he shared with Dennehy in Bifield on March 29, his body was later dumped in a ditch near the isolated Thorney Dyke.

Mr Lee was also killed on March 29 in the same house as Mr Slaboszewski.

His body was found wearing a black sequin dress and positioned in a sexual pose in a separate ditch near Newborough, in what Mr Wright described as a "final act of humiliation''.

After the Peterborough killings, Dennehy had bragged that she and Stretch were "like Bonnie and Clyde'' as they drove 140 miles across the country to search out further victims.

The court heard that she drove to Hereford with Stretch in a Vauxhall Astra registered in the false company name Undertaker and Sons.

Once there the diagnosed psychopath attacked Mr Bereza and Mr Rogers in the street.