Spalding: Assault Outside Takeaway
9 September 2013, 10:17 | Updated: 9 September 2013, 10:22
CCTV images have been released, of two men police think may be able to assist with an enquiry into an assault.
At approx 1.10am on Sunday 1st September, a 20 year-old man was assaulted outside USA Chicken on New Road in Spalding. The victim suffered facial cuts and bruising.

Police are seeking help in identifying two men who were in the takeaway shortly before and who may be able to assist with the enquiry.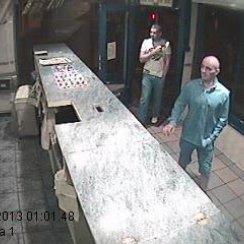 Anyone with information should contact PC Jonathan Lang by dialling 101 and quoting the incident number. Report crimes anonymously by contacting Crimestoppers on 0800 555 111.