Wisbech: Swan Shot Twice With Crossbow
8 May 2014, 10:07 | Updated: 8 May 2014, 11:40
Swan shot with two crossbow bolts two weeks after similar attack on goose in Wisbech
A swan is in intensive care after being shot twice with a crossbow in Wisbech - just a fortnight after a goose was similarly attacked down the road, in Elm.

The RSPCA was called on Sunday (4 May) after the injured bird was spotted on the river Nene in the village of Upwell, near Wisbech. Members of the public in boats on the water at March Riverside saw him trying to swim with a bolt coming from his shoulder

RSPCA inspector Justin Stubbs rescued the swan with the help of a member of the public and his kayak, and rushed it to East Winch Wildlife Centre near Kings Lynn. An examination showed that not only was there one crossbow bolt in the swan's shoulder, but also a second bolt deeply embedded in the swan's flank rear.

The swan was found just two miles from where a goose was shot with another crossbow in Elm on April 23.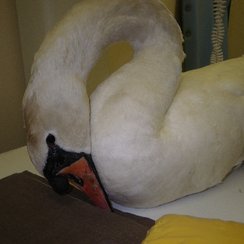 Inspector Stubbs said he urged anyone with any information to contact the RSPCA. He said: "I hadn't even seen the second bolt until the swan was examined by vets at the hospital. It was deeply embedded in the flesh and covered by tail feathers.

"Presumably someone must have shot this beautiful bird with this cruel weapon, and then calmly reloaded and shot him a second time.

"This is the most recent in what feels like a sustained attack on the wildlife in this area and I am very anxious to put a stop to it. Just two weeks ago a goose was shot with another crossbow down the road, and before that there were many others who have been deliberately run over or shot with air guns in the area, on one occasion even used as a football.

"This swan is intensive care at the moment and I would love to be able to return him to the wild soon. He had just begin to make his nest with his mate at the time, ready for laying eggs and raising this year's brood."

The goose, named Achilles after the indestructible demi-god, was found with a razor-tipped bolt sticking out of his back on 23 April and also taken him to a East Winch Wildlife centre where he is making a good recovery. X-rays showed not only the bolt wound but also an old fishing line wound to the left leg, an airgun pellet embedded in the left leg, a self healed fracture to the right wing and bilateral septic arthritis to the feet.

Alison Charles, manager at East Winch, said: "Sadly it is not looking good for this poor swan at the moment - he has not been as lucky as the goose.

"He is in intensive care and we are giving him the best of care treating him as best we can, but the bolt penetrated one of his air sacs and had dead tissue around it.

"The injuries here are truly horrific - it is so sad. It seems such a senseless and violent way to treat such graceful birds."

Anyone with any information about either of the attacks should call us in confidence on 0300 123 8018.

Under the Wildlife and Countryside Act it is an offence to take, injure or kill a swan and punishment can include fines up to £5,000 and/or a prison sentence of up to six months.