Two Men Guilty Of Peterborough Sex Abuse
20 May 2014, 12:09 | Updated: 20 May 2014, 13:26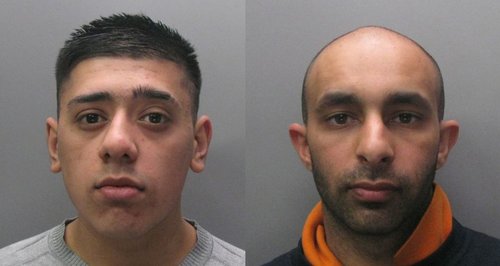 Two men have been found guilty of sexually abusing young girls in Peterborough.
Daaim Ashraf and Yasir Ali have been convicted following a trial lasting several weeks at Cambridge Crown Court.
28 year old Ali [pictured - above right], from Grange Road in Peterborough, was convicted of a total of 15 charges.
These included four counts of rape, and seven counts of trafficking for sexual exploitation.
19 year old Ashraf [pictured - above left], from Almoners Lane in Peterborough, was found guilty of nine charges in total.
These included five counts of trafficking for sexual exploitation.
A third defendant, 25 year old James Daly from Grange Road, Peterborough, was cleared of a single charge of rape.
The jury of seven women and five men had deliberated for 14 hours and 37 minutes before delivering their unanimous verdicts.
During the eight-week trial, the court heard Ali and Ashraf had abused eight girls who they had groomed after meeting them through social media.
Six of the victims, the youngest of who was 13, were abused at a hotel in Peterborough in January and February last year.
One of the girls was also raped in an alleyway in Stamford.
A further two victims were identified during the investigation and disclosed to having been raped in cars at Ferry Meadows in 2008 and 2010.
The investigation was part of Operation Erle, which is a joint investigation between Cambridgeshire Police and Peterborough City Council's Children's Services.
Detective Superintendent Gary Ridgway said: "Today's convictions are part of the ongoing joint inquiry by Cambridgeshire Constabulary and Peterborough City Council's Children's social care to safeguard young people and bring offenders to justice.
As with the previous case held at the Old Bailey, this investigation was entirely victim-led.
We worked closely with colleagues at Peterborough, Rutland and Lincolnshire Children's Services to win the trust of these young girls so they felt safe enough to tell us what they had been through.
The girls were targeted due to their vulnerability and groomed via social media. They were made to feel special.
These men preyed on their innocence and took them to hotels where they were plied with alcohol then sexually abused.
They have each been through horrific ordeals and have shown great bravery in giving evidence against their abusers at court.
It will no doubt take many years for them to rebuild their lives, but hopefully the knowledge that these men have been brought to justice will be an important step forward for them.
Our priority has always been, and remains, to safeguard young people. We will continue to work with the city council and other partner agencies to keep young people safe from harm."
Sue Westcott, Executive Director of Children's Services for Peterborough City Council, said: "We are very happy with this verdict.
It represents justice for the victims.
It also reflects credit on the police and our social workers who have worked so hard with the victims to gain their confidence and tease out the very disturbing nature of exactly what was happening to them.
Without this painstaking work these criminals could never have been brought to justice.

But most of all we would like to recognise the victims.
Without their bravery to stand up in court and relive sometimes difficult experience we could never have achieved these convictions.

We are continuing to learn more about how these men operate; picking on the most vulnerable, using flattery and gifts to make them feel good and then progressing with threats, intimidation and even violence when they find these tactics necessary to maintain control over their victims.

These sentences follow on from the five men convicted in February in the Old Bailey for similar offences.
We will continue to work closely with the police to uncover these sorts of crimes in our area and bring those responsible to justice.

We will now concentrate on giving these young girls every support necessary to recover from their ordeals though this may not be easy.

One of the really frightening aspects of this sort of crime is how strong the men's grip can sometimes be over their young victims – even to the point where the girls themselves become confused about what they actually want.

In the meantime we appeal to everyone, especially those involved with young people and children, to be vigilant.
If a young person in your care is showing signs of possible abuse or acting in a suspicious manner please speak to the authorities and we will investigate.

Along with the police and our other partners we need to work very hard to beat these men who prey on young people. But we cannot do it alone – we need everyone to be on the lookout."