Whittlesey: Man Dies In Latest North Bank Crash
3 December 2013, 15:30 | Updated: 3 December 2013, 16:08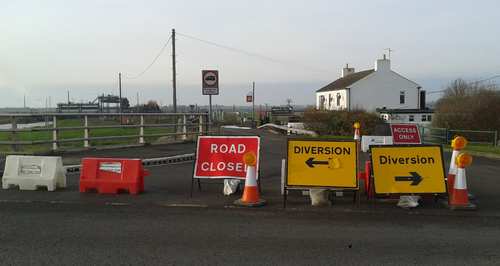 Cambridgeshire Police have confirmed a man has died in a crash at North Bank in Whittlesey.
The driver, a 50 year-old man from Northamptonshire, was pronounced dead at the scene yesterday after the Skoda Octavia he had been in was pulled from River Nene.
The river runs alongside North Bank in Whittlesey.

Police and emergency services were called shortly after 2.30pm yesterday to reports that a vehicle had been spotted partially submerged in the water.
However it's thought the car may have been there since last Tuesday.

Officers say this accident is the sixth crash at the location since the 27th November, and the second fatality within the last month.

PC Tim Kirkby, who investigating, said: "I would appeal to anyone who saw the vehicle enter the water or saw it being driven along that stretch of road between Tuesday (November 26) and 2.30pm yesterday."

Anyone with any information is asked to call the Roads Policing Unit on 101.
Road To Re-Open Wednesday With Lower Speed Limit
An inspection of the road is now being carried out by Peterborough City Council, the authority which is responsible for the road.
The Council has confirmed North Bank will remain closed for the rest of the day, and will re-open 'at some point tomorrow'.
Simon Machen, Peterborough City Council's Director for Growth and Regeneration, said, "Our initial inspections of the road last week and today have found no defects with the road or its surface.

However, we are aware of a number of incidents in the past week and have therefore decided as a precautionary measure, to introduce a temporary 40mph speed limit until we can fully investigate any road safety issues.

This will be in place when the road re-opens at some point tomorrow.
We are working closely with Cambridgeshire Police to ensure enforcement measures are put in place.
If new measures are required following consideration of the police investigation reports and our ongoing inspection, an appropriate scheme will be designed and implemented."
Week of North Bank Crashes
Nov 27 Thu: A Kia Picanto crashes into the ditch at 6.30pm with four occupants
Nov 28 Fri: A Nissan Micra slides into the Nene at 4.50pm
Nov 29 Sat: A Renault Traffic van crashes into the water at 12.50am
Dec 1 Sun: A Mercedes comes off North Bank and ends up in the ditch at 11.06pm
Dec 2 Mon: The body of a 50 year-old man from Northamptonshire is found inside a Skoda Octavia after a passer by seems the partly-submerged vehicle. Police believe the victim could have been in the water since November 26th
Dec 2 Mon: A damage only collision happens at 8.26am
Cambridgeshire Police Name Victim
The man killed after the car he was driving was submerged in water at North Bank in Whittlesey has been named as 50 year old Keith Pettitt, from Deene Thorpe in Corby.
He was pronounced dead at the scene yesterday, after the car he was driving was pulled out of the River Nene.