Who'd Dump Box Of Kittens In A Wisbech Field?
6 June 2014, 08:50
The RSPCA are appealing for information after ten kittens were found dumped in a box in the middle of a field near Wisbech.
One of the tiny animals, thought to be around three to four weeks old, had already died by the time they were discovered and the other nine were all suffering from severe conjunctivitis and dehydration.
The RSPCA have told Heart the kittens were found early on Monday morning (2 June) by a passing farm worker on land near Gunthorpe Road, Walpole Marsh.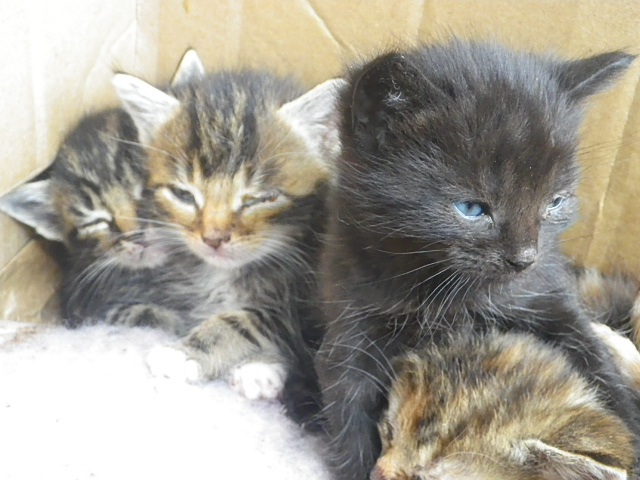 The RSPCA were called and took the kittens straight to the vet for treatment.
RSPCA inspector Justin Stubbs said: "These poor little kittens were freezing, I imagine they had probably been out there in that rural remote location for most of the night. One had already suffered a horrible death, and the others had painful, sore eyes - in many cases sealed up with the infection.
Someone went out of their way to abandon these kittens in a field well off the beaten track.
If this passing man had not spotted them and thought to take them to safety and call us they could have potentially suffered a slow lingering death out there. He saved their lives."
The RSPCA say once the kittens, a mixture of tabby, black and two gingers, had been treated for their eyes and rehydration issued, they've made a good recovery and started behaving like playful kittens once again.
The box is thought to have come from a smallholding or farm related environment as inside it there was a duck egg and a bag with remnants of piglet food inside. Anyone with any information about where it came from or how the baby animals came to be dumped in this way should contact 0300 123 8018 in confidence.
The kittens are currently recovering from their ordeal at Cats Protection's Peterborough and District Branch.
They are currently being part hand-reared by fosterers and will hopefully be fully weaned in two weeks.
The RSPCA have told Heart the kittens would suit most households and will be ready to be rehomed in around nine weeks, once they have been socialised and have built up their strength.