Cambridgeshire & South Lincolnshire: Tidal Surge Latest
6 December 2013, 11:09 | Updated: 6 December 2013, 14:07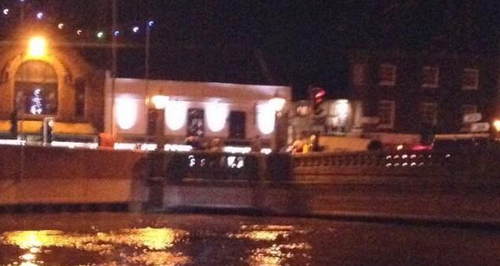 An Environment Agency Flood Warning remains in place for Wisbech and Sutton Bridge, as the east coast continues to face a tidal surge.
This morning, flood warnings were in place for Wisbech and Sutton Bridge, as the area was braced for another high tide at around 8am.
Water levels were not expected to rise as high as last night though.
High tide on the River Nene in Wisbech was at around 7:30pm last night.
Cows had to be rescued at Wingland, near Sutton Bridge by a Farmer, as they were up to their knees in water.

Five horses were also rescued after becoming trapped by deep flood water in stables, near Cromwell Road on the A47.
The Environment Agency expected the tidal surge to have 'minimal impact' on the Fenland town.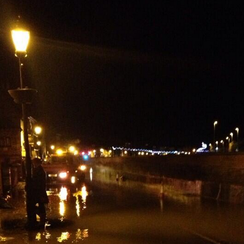 The town's flood gates were closed, and sand bags were used to block gullies and manhole covers.
However there were reports of water lapping over flood defences, and coming dangerously close to homes and businesses.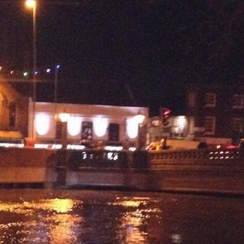 Pictures posted on Twitter also indicate extremely high water levels on the River Nene, almost touching the base of the town centre bridge.
A spokesperson for the Environment Agency added: "We are expecting a tidal surge late on Thursday 5th December, through Friday and into Saturday morning.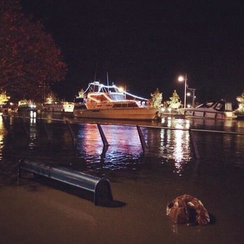 This will lead to unusually high tide levels along the Wash and Tidal Estuaries.
We expect this to result in significant wave splash and overtopping of the sea defences which could result in property flooding near the defences and in wider low lying areas.
Coastal paths and promenades could be highly dangerous as there is an increased risk of being swept out to sea.
People are warned to stay away from the shoreline.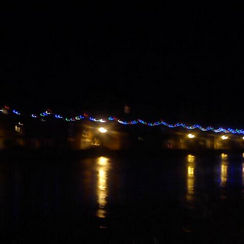 The Environment Agency is monitoring the situation closely, working alongside partners including the Met Office and local authorities.
Environment Agency officers are on the ground confirming the flood defences are in good working order, monitoring sea levels and wind directions."
Power Cuts
UK Power Networks tell us overnight (Thursday 5th-Friday 6th December) there were around 200 homes in Cambridgeshire without power. We are expecting an update on this number soon.
Impact Of High Water In South Lincolnshire
Elsewhere, the area around Holbeach and Long Sutton was also the subject of a lower level Flood Alert.
Nearby Spalding was also braced for high water.
Two tweets from Spalding Police read: "Flood defences in Spalding have held well.
Only a slight overspill.
Environment Agency officers informing us that the tide is now turning.
Officers are still out working with agencies to help flooded areas.
The tide is expected to return around 8am.
Please keep clear of floods."
Further afield, a Severe Flood Warning was also issued by the Environment Agency for the Tidal Welland between Fulney and Fosdyke Bridge.
Weather-Related Incidents Through Thursday
Cambridge - fallen tree affecting Storey's Way
Crowland - Deeping High Bank partly blocked by emergency services dealing with a double-decker bus which had blown over earlier
Haddenham, Ely - High Street partly blocked by a fallen tree
Haddenham - The Rampart is partly blocked by a fallen tree
Houghton - A1123 by Sawtry Way is blocked by a fallen tree
Long Sutton - Roman Bank is closed by a fallen tree, which has taken down power and phone cables
Yaxley - fallen tree partly blocking A15 London Road by the Serpentine (McDonalds roundabout)
Wisbech - River Nene flood gates closed
East Coast Trains - running to a revised timetable via Peterborough - due to the storms elsewhere in the country
First Capital Connect - disrupted services due to poor rail conditions via Littleport
Advice From Environment Agency
Act now to protect yourself and your property.
Avoid beaches, promenades, coastal footpaths and roads.
If it's safe to do so, block doors with flood boards or sandbags and cover airbricks and other ventilation holes.
Move family, pets and valuables to a safe place.
Keep a flood kit ready including a torch, batteries, fully charged mobile phone, warm clothes, water, food and any prescription medicines you may need.
If it's safe, make sure your neighbours are aware of the situation and offer help to anyone who may need it.
Avoid walking, cycling or driving through flood water.
Turn off gas, electricity and water if your property is about to flood. Never touch an electrical switch if you are standing in water.
Call Floodline on 0845 988 1188 for up-to-date flooding information.
Keep an eye on local water levels and weather conditions.
The Environment Agency website contains details of river level and flooding information.
Wisbech pictures above from: