Yaxley: Man Hit By Flying Shed
27 January 2014, 14:21 | Updated: 27 January 2014, 16:54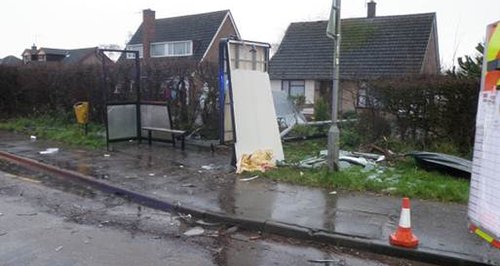 A man has been injured, after a shed was uprooted and flew through the air during stormy weather in Yaxley, near Peterborough.
Emergency services were called to London Road at around 3:45pm on Saturday, during sudden strong winds and heavy rain.
According to the East of England Ambulance Service, a man in his 40s was sheltering from the weather in a bus shelter.
However a shed from a nearby field came loose, and was transported around 70 metres in the air, before colliding with the bus shelter.
This caused the bus shelter to collapse onto the man.
Stuart Henderson, ambulance technician, who attended the scene said: "The initial call came through to us as a casualty struck by lightning.
When we arrived there were power cables down and debris everywhere.
The shed must have flown between 50 and 70 metres so the man was fortunate to suffer just a cut to his head.
He was treated by Magpas and ourselves and placed on a spinal board as a precaution."
The man was taken to Peterborough City Hospital and was not believed to be in a life-threatening condition.
Picture - Magpas.