50 Million Pound Plans For Plymouth's Home Park Submitted
31 May 2013, 14:00 | Updated: 31 May 2013, 14:15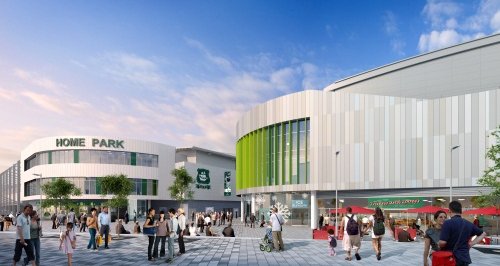 All going well, the 50 million pound transformation could see construction work get underway as soon as this Autumn .
Subject to planning consent being granted, the Akkeron Group, who's Chairman James Brent is also the owner of Plymouth Argyle FC, hopes to turn Home Park into a top class regional sporting and leisure destination.
The significant milestone comes after weeks of public consultation on the proposals by the applicant (Akkeron Group).
Key features of the plan include:
The replacement for the outdated and tired Mayflower stand at Plymouth Argyle Football Club's Home Park stadium to provide a high quality new grandstand for the club with hospitality and club retail facilities to generate new match day and non-match day income to re-invest in the team and put the club on a more sustainable financial footing
A first class competition-standard ice arena to replace the rink at The Pavilions
One of the largest cinemas in the South West with 10-screens (including an IMAX)
Major improvements toCentral Parklandscape and public amenities
James Brent, Chairman of Plymouth Argyle and Akkeron Group, said: "We have been very encouraged by the level of interest, support and constructive feedback received from local people about our proposals.''
"The views and suggestions we have received from the community have influenced and shaped key aspects of our proposals including theHomeParkgrandstand, improvements toCentral Park, parking facilities and what the competition ice skaters in the city would like from their new arena.''
"We believe this plan will reinvigorate Higher Home Park and greatly improve the offer for local people and visitors of all ages with a range of indoor and outdoor sporting, leisure and social activities. We have also designed with Plymouth City Council and local interest groups, including the Friends of Central Park, a significant package of enhancements for the park environment and public amenities."
Improvements proposed for Central Park include:
New linking footpaths, landscaping, seeding and tree planting in Zoo Field and creation of aMemorialGarden
Regrading and resurfacing of Cottage Field football pitch so that players have a flat even surface and improved pitch drainage
New feature gateway at the entrance of the Mawsons Axis between the Life Centre andHigherHomeParkto give a sense of arrival to the park
Creation of a new community youth football changing room which has been identified as an objective in the Plymouth City Council Central Park Masterplan
A financial contribution to Plymouth City Council for the resurfacing of Gilbert lane and creation of a new pathway leading into Family Tree Field, in line with the vision set out by the Council Central Park Masterplan