Plymouth: 10,000 New Jobs For The South West
17 January 2014, 14:32 | Updated: 17 January 2014, 14:40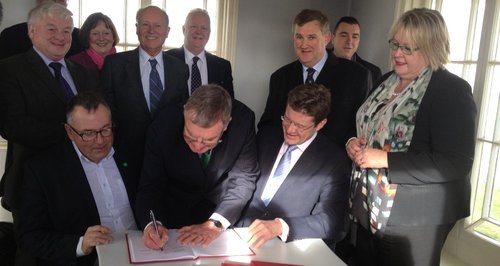 More than 10,000 jobs, growth for 25,000 businesses and Plymouth's South Yard open for business, thanks to the historic City Deal.
The start button has been pressed on the Plymouth and South West Peninsula City Deal which could see £296 million pumped into the region over the next 15-years.
Complex negotiations have been taking place for the last couple of months but it won the gevernment money with the passion and drive of everyone involved.
14% of the national marine industry supply chain is based here, employing 26,000 people across 12 sites.
The flagship proposal unlocks land at South yard in Devonport - which has been hidden behind walls, in secrecy, for 70-years.
The deal will provide high-quality careers for people and will tackle the regions youth unemployment, 1,500 18-24 year olds will be helped back into work.
So by 2030, through the delivery of the city deal:
Create 9,500 jobs
Create a further 1,830 construction jobs
Generate Gross Value Added (GVA) of £800m
£34 million of local and national public sector investment
Lever in £76 millon in private sector investment increasing to
£266m in the longer term
The potential to release an initial 32,500m2 of new marine space possibly increasing to 86,000 m2 of new marine workspace
Assist 1,500 young people back into sustainable employment