'Snugglies' Needed At Plymouth Hospital
22 October 2014, 11:44 | Updated: 22 October 2014, 11:54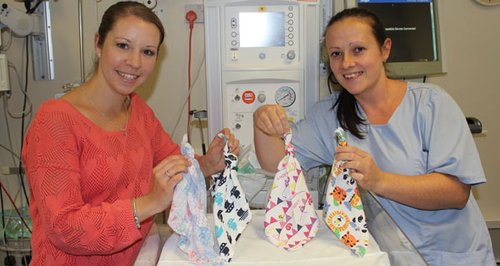 Plymouth Hospital's Neonatal Intensive Care Unit is looking for volunteers to help them make more 'snugglies' to keep up with the high demand.
Every baby cared for on the Neonatal Intensive Care Unit for more than 24 hours receives a packet of snugglies, which are little muslin squares that are knotted in one corner, one for the mum and one for the baby.

One snuggly is placed in the incubator close to the baby and the other stays close to the parent to pick up their scent. Every few hours or at the end of the day, they are swapped around so that the baby can have the parents scent and the parents can have the babies scent.

Currently, NICU only has three packets of snugglies in stock, as the nurses are having to make them in their own time and unfortunately cannot keep up with the high demand of at least 30-40 a month. Vicky Johnson and Lisa Gilfillan, NICU Staff Nurses said:
"Snugglies have a huge impact on our families and babies going through an extremely emotional time. Something so small can make such a huge difference to parents separated from their babies and can aid bonding, milk production and separation anxiety. We would be extremely grateful for anyone willing to help provide the families with such a vital developmental care aid."

Jack and Hannah, parents of baby Leo, who was cared for by NICU said:
"Not being able to be close to your child when they are born is the most difficult thing to deal with. Myself and my partner used to fall asleep with Leo's snuggly in-between our faces, breathing in his scent as we fall asleep. 103 days later we still do."

Snugglies are not the only thing that volunteers can help with in the NICU unit. Incubator covers, large mattress sheets and small and large sheets are all needed and are extremely easy to make, with only a few straight lines needed to be sewn on each. Staff from the unit will explain exactly how to make them and provide the material needed.

If you are interested in helping the unit, please contact NICU on 01752 432333.