Theatre Royal's Biggest Project On Time & On Budget
14 June 2013, 14:38 | Updated: 14 June 2013, 14:51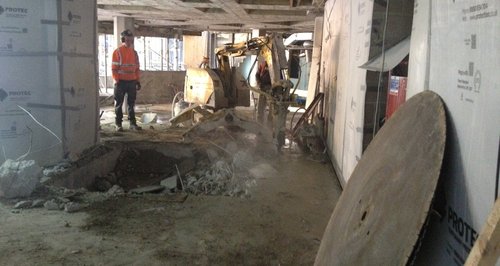 Two months in and with three left to go, work to transform the Plymouth Theatre Royal is on schedule.
Heart's been to see first hand the dramatic scenes taking place within the building costing millions of pounds.
It's the biggest change to take place in more than 30 years - In the basement alone, 200 tonnes of concrete has been wheel-barrowed out.
Now the 12 week countdown for the opening night has begun.
80 workers are transforming the city centre site but admitted they have faced some challenges along the way, with tasks expected to take a week, taking twice as long...
But despite this, the theatre will reopen, as planned, at the end of September and in time for the first UK tour of War Horse.
The redevelopment includes;
An outdoor terrace
Extended restaurant
A new studio space in the basement, to seat 100
Level access in the entrance
New box office, shop and cafe
Re-cladding of the building to improve energy efficiency by up to 40%
Funding for the project has come from the arts council, donations and the city council.
Builders and designers BAM Construct UK are the main runners on the project - Devon and Plymouth contractors are also involved.

The next phase will see an extension added to create a more impressive theatre with better disabled access on completition.