Somerset: Dredging Starts On The Levels
31 March 2014, 17:12 | Updated: 31 March 2014, 17:34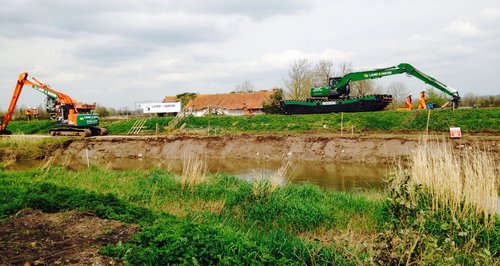 It's the news that everyone on the Somerset Levels wanted to hear, dredging has started on the River Parrett and Tone.
A team of workers and equipment - including one excavator from the Netherlands - began dredging a 200-yard stretch of river at 8am.
The work marks the beginning of a seven-month period in which up to 400,000 tonnes of silt will be removed from the River Tone and River Parrett.
Contractors will work six days a week at eight sites across Somerset to dredge a five-mile stretch - with material removed used as fertiliser on local fields or for flood bank repairs.
Nearly 30,000 acres of land were left submerged during relentless winter storms and rain over the past three months, devastating homes, businesses and farms. Flood water levels have since receded to allow roads to reopen, residents to return home and, crucially, dredging to begin.
Jim Winkworth, of Flooding on the Levels Actions Group (Flag), also welcomed the dredging but said it was only part of the solution. The pub landlord said pumping stations, some up to 80 years old, desperately needed updating and more effective pumping equipment should be installed.
Mr Winkworth said:
'I'm delighted to see that they have made a start. We are watching them very closely to make sure they do a proper job. We don't want the rivers dredged, then in 12 months time be in a similar situation.
'Hopefully the job will be done properly and we applaud it.
'If you look at Moorland for instance, it makes you cry every time you go through there. It's people's lives, people's homes.'
During the Floods

After

Ian Withers, environment manager at the Environment Agency, said:
'The event we've had this winter has been the most severe in history. We've had more rainfall than we've ever had in this part of the country.
'Dredging would not have prevented the properties from being flooded but it may well now reduce the likelihood of flooding, and it will almost certainly reduce the severity.'
'Over the next seven months we will be making significant progress,' Dredging forms part of the Somerset Levels and Moors Flood Action Plan, a £100 million 20-year plan to protect Somerset from future flooding.'
The plan also proposes a new tidal barrier at Bridgwater and raising the levels of key roads to prevent communities such as Muchelney from being cut off again.
Across the country, 6,500 homes and businesses were flooded in the crisis - with flood schemes protecting more than 1.4 million properties and nearly 1,000 square miles of farmland.
Environment Secretary Owen Paterson said:
'People in Somerset were devastated over the floods this winter. We are working hard to help people rebuild their lives and I'm pleased that the dredging of the rivers Parrett and Tone has started today.
'It will help ensure Somerset is better protected from the risk of flooding in the future.'