Flooding: Boat Service Continues To Help Stranded Villagers
23 January 2014, 13:08 | Updated: 23 January 2014, 13:22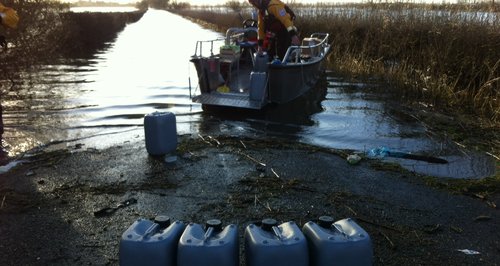 Somerset County Council will continue to provide a vital boat service that provides a lifeline for Somerset villagers stranded by the recent flooding for as long as it's needed.
The humanitarian boat service from Langport to Muchelney and Thorney was due to end on Friday but because of the continuing high water levels, the service, provided with a boat hired from Maunsel Lock Canal Centre and crewed by the Devon and Somerset Fire and Rescue Service, has been extended.

Deputy Leader of Somerset County Council, Cllr David Hall said:
"We will continue to fund and provide this boat service until the water levels recede sufficiently and we will continue to support them in these difficult times".

Resident of Muchelney, Alistair Mollineux, said that he was "absolutely delighted" that the service had been extended.

The boat service has been used to transport stranded school children to and from school and has been vital for villagers getting to work and back every day. The boat has also been used to ship-in vital supplies such as groceries and fuel to heat homes – fuel which was provided free of charge by Certas Energy via Dave Smith of "new SLOGS" (Somerset Levels Oil Group Syndicate).

Cllr Hall added:
"We are lobbying Government for extra funding to protect our communities against future flooding on this scale and I'd like to encourage people to support our Facebook campaign, 'Fairer Funding for Somerset'."

Support Somerset County Council's 'Fairer Funding for Somerset' campaign by liking and sharing photos at www.facebook.com/fairerfundingforsomerset or using #fairerfundingforsomerset on Twitter.