Flooding In Somerset
8 January 2014, 06:07 | Updated: 10 January 2014, 14:14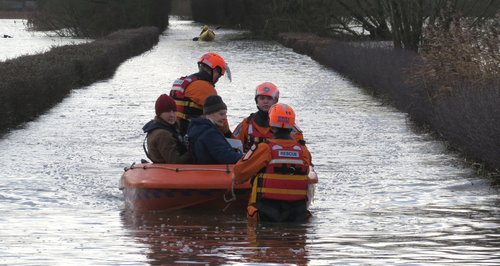 With weather warnings in place for the West, here's where Heart will keep you up-to-date on how Somerset is affected.
Flood Warnings
For the very latest Flood Warnings and Alerts from the Environment Agency - CLICK HERE
Forecast
Severe weather warnings are still in place for the South West
For the very latest from the Met Office - CLICK HERE
South Somerset:
South Somerset District Council has been responding to calls for help in the district after heavy rain has caused severe flooding in large parts of the district.

Flood warnings have been issued in many parts of the district by the Environment Agency and with the water still potentially rising in the rivers, along with the run-off of water from the fields, there is still the danger of flooding in some areas.

The district council's Streetscene Services Team has been out delivering sandbags to those properties that have requested them. As of Monday 6 January, the team has gone through 40 tonnes of sand and delivered an estimated 3500 sandbags and self-inflating gel bags to households.

Flooding on roads has caused the council's teams great difficulties in getting around the district further hampered by the fact that most of the trucks the teams use can only carry a maximum of 40 sandbags before they reach the maximum weight limit the vehicle can carry. High winds have also caused the service further complications with trees falling down and therefore manpower having to be diverted to felling trees rather than delivering sandbags. Staff have been working over the past few weekends under the coordination of the Civil Contingencies Manager to ensure sandbags still get those who request them out of normal working hours.
Councillor Jo Roundell Greene, Portfolio Holder for Environment & Economic Development said:
"I am exceptionally proud of the way in which my team has worked in the most difficult of conditions to help people out in their time of need. I know that their work will have saved many families from suffering the anguish of a flooded home and I have been particularly happy to receive a number of compliments both about the speed of SSDC's response and about the cheerful manner of our staff when delivering the much needed sandbags."


Flooding Advice
If you are affected by flooding the advice from the Environment Agency is:
If it's safe to do so, block doors with flood boards or sandbags and cover airbricks and other ventilation holes.

Move family, pets and valuables to a safe place.

Keep a flood kit ready including a torch, batteries, fully charged mobile phone, warm clothes, water, food and any prescription medicines you may need.

If it's safe, make sure your neighbours are aware of the situation and offer help to anyone who may need it.

Avoid walking, cycling or driving through flood water.

Turn off gas, electricity and water if your property is about to flood.

Never touch an electrical switch if you are standing in water.
Call Floodline on 0845 988 1188 for up-to-date flooding information.


To hear the latest from Heart, tune to 102.6FM, 96.5FM in Taunton, 97.1FM in Yeovil or 103FM in Weston. We're also on DAB Digital Radio or the Heart App.