Flooding: Tesco Keeps Muchelney Supplied With Food
7 January 2014, 13:56 | Updated: 7 January 2014, 14:02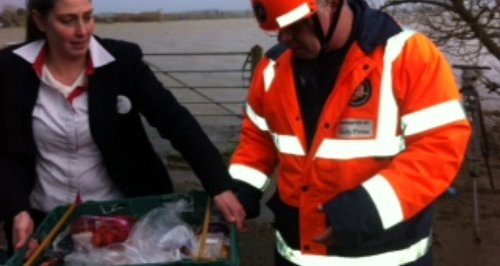 As Muchelney is cut off by flood water, Tesco in Langport are delivering food and groceries to them by lifeboat.
Flood water has surrounded the town of Muchelney in Somerset for the last couple of days and Heart's been told it could last for up to two weeks.
Tesco in Langport have been taking orders over the phone, in one day they delivered 10 orders to residents via lifeboat.
The store in Langport don't usually offer home delivery and the nearest store that does is Shepton Mallet, so staff have been working round the clock to get the food out to people who are stuck in Muchelney.
Marie Backwell is the Deputy Manager of Tesco speaking to Heart she said:
'We are receiving phone calls from the community that are in Muchelney. We are writing down their orders, and picking out there orders and then taking them down to the lifeboat to deliver their orders.
'There's a lot of work going on today where they are pumping the water back into the river as the banks are about to explode. Muchelney is completely cut off, where people can't get in or out without being on a boat by the rescue people.'