Somerset Floods: Police Chief Says They're Fully Prepared
31 January 2014, 18:17 | Updated: 31 January 2014, 18:22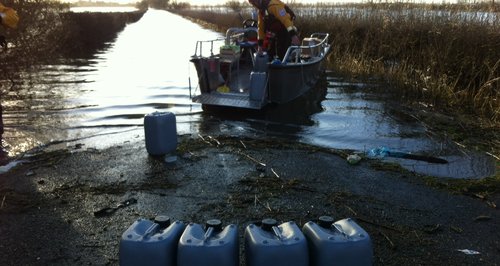 Avon and Somerset Chief Constable Nick Gargan has assured communities affected by the Somerset floods that the authorities are fully prepared for whatever the weekend might bring, with further help on standby if needed.
Mr Gargan, visiting the Silver control room at Taunton police station where agencies are working together to mitigate the flooding impact, said:
"We understand the concerns of local communities. Our priority is to help local people as much as we can. Staff from all the agencies are continuing to work together to do everything they can to mitigate the impact of the flooding.
We're paying particular attention to the needs of those forty or so households that are flooded and those that are isolated because of the flooding. Together with our partners, we're constantly reviewing and assessing the needs of those affected communities and responding with support where we need to. We thank local charities such as Red Cross who have been invaluable in their support, as well as MoD and other services for their assistance.
Should the threat become more extreme we have contingencies in place but at this time we have the resources and plans in place to deal with the incoming weather."

Military planners are currently working with Somerset County Council to determine what support the MOD can offer communities affected by floods. In addition personnel have been surveying the area in order to scope potential requirements. We have a range of capabilities in the Somerset area which stand ready to assist. More information will be made available as and when decisions are made on what support to offer.

This is happening whilst the Environment Agency continues with the biggest pumping operation the country has even seen - 62 pumps, 24-hours a day, draining an estimated 1.5 million tonnes of water (equivalent to 600 Olympic-sized swimming pools) off the Levels. Six high-volume pumps are now pumping away 2 million litres per hour (3 HVPS at two EA pumping station sites Long Road and Salt Moor). 4 are on standby.

EA has also said that dredging will start as soon as it is safe to do so, and the Environment Agency is exploring a range of options beyond the traditional techniques, including cutter suction dredging. Its Chief Executive, Dr Paul Leinster, will report to Cobra this evening on options.